SOUL
---
GIL SCOTT-HERON - SMALL TALK AT 125th AND LENOX (1970)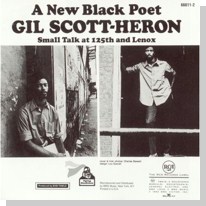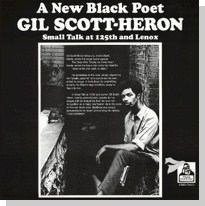 Fin dal primo disco, Gil Scott-Heron avrà occhi e orecchie per intendere e interpretare il rovente clima politico che lo circonda e di cui subì un'influenza diretta. La centralità della parola nella cultura afro-americana è confermata da alcuni dei suoi brani più famosi. Egli parte dalla musica, il testo viene ideato in una fase successiva: a una parte cantata in rima può seguire un "parlato" vero e proprio, che assume un tono declamatorio che ben poco ha a che vedere con il "rap" come lo conosciamo oggi. - Paolo Guglielmino
---
GIL SCOTT-HERON - PIECES OF A MAN (1971)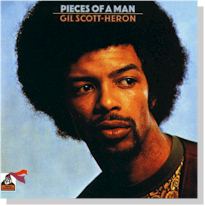 La presunta contiguità ideologica di Gil Scott-Heron al movimento "rap" è l'ennesima castroneria della "stampa specializzata": ormai non è più neanche il caso di prendersela. Osserviamo solo che Gil più che parlare racconta, e lo fa con voce profonda e talento da fine narratore, snocciolando liriche calate nell'irripetibile atmosfera dei primi anni '70, in perfetta sintonia con le frequenze jazz trasmesse da strumentisti di prim'ordine: Ron Carter (contrabbasso), Bernard "Pretty" Purdie (batteria), Hubert Laws (flauto - sax) e l'inseparabile pianista Brian Jackson. Musica, insomma, non baccano. La firma di Bob Thiele, produttore delle storiche incisioni Impulse! di John Coltrane, assicura all'album un marchio di qualità superiore. La minacciosa The Revolution Will Not Be Televised lancia il suo slogan inquietante, efficace ancora oggi, mentre l'eco del risentimento rimbomba nelle note di Home Is Where The Hatred Is (Esther Phillips la interpreterà sul capolavoro From A Whisper To A Scream). Semplice e diretta la dedica espressa in Lady Day And John Coltrane: un invito ad ascoltarli perché "they wash your troubles away". Un formato più tradizionale consente di gustare le inflessioni soul di Save The Children (solo omonima del classico di Marvin Gaye), When You Are Who You Are, I Think I'll Call It Morning, cui seguono ballad cupe e riflessive come Pieces Of A Man e Sign Of The Ages. - B.A.
---
GIL SCOTT-HERON - FREE WILL (1972)
GIL SCOTT-HERON - WINTER IN AMERICA (1973)
GIL SCOTT-HERON - THE REVOLUTION WILL NOT BE TELEVISED (1974)
GIL SCOTT-HERON - THE FIRST MINUTE OF A NEW DAY (1975)
GIL SCOTT-HERON - FROM SOUTH AFRICA TO SOUTH CAROLINA (1975)
---
GIL SCOTT-HERON - IT'S YOUR WORLD (1976)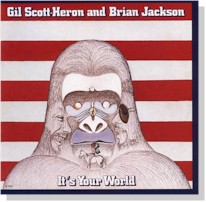 Condividiamo la diffidenza di molti appassionati per gli album registrati dal vivo. Il "doppio live" (espressione diventata sinonimo di "rimasticatura") era l'approdo immancabile cui giungevano molti artisti per consacrare il proprio successo, ma quasi sempre conteneva versioni sciatte e deludenti dei brani incisi in studio. In un'ampia casistica di fallimenti vanno segnalate alcune felici eccezioni, determinate da un repertorio particolarmente adatto ad essere interpretato e rielaborato sul palco: Waiting For Columbus dei Little Feat, Back To The Bars di Todd Rundgren, Person To Person della Average White Band e, senza dubbio, It's Your World di Gil Scott-Heron. Le canzoni-poesie di Gil, intrise di jazz, funk e R&B, ispirate a temi scottanti e continuamente aggiornate sull'onda dell'attualità politico-sociale, si prestavano naturalmente alla "presa diretta". Una scrupolosa scelta dei pezzi e l'elevata efficienza della Midnight Band - formazione guidata dal tastierista Brian Jackson - accrescono il valore di questa benemerita ristampa CD. Scott-Heron propone alcuni classici del suo repertorio (Home Is Where The Hatred Is; Must Be Something) e qualche novità come il poema Bicentennial Blues, aspra denuncia delle condizioni in cui vive la comunità afro-americana e, insieme, orgogliosa rivendicazione di un inestimabile patrimonio culturale. Al materiale del concerto sono state aggiunte quattro golose primizie risalenti a sedute diverse che, secondo l'autore, "maintained the atmosphere of those nights in the club" [It's Your World; Possum Slim (Ed Myers); New York City; Sharing]. - B.A.
---
GIL SCOTT-HERON - BRIDGES (1977)
GIL SCOTT-HERON - SECRETS (1978)
GIL SCOTT-HERON - 1980 (1980)
GIL SCOTT-HERON - REFLECTIONS (1981)
GIL SCOTT-HERON - SPIRITS (1994)
SEAWIND - SEAWIND (1973)
SEAWIND - WINDOW OF A CHILD (1973)
MARLENA SHAW - THE SPICE OF LIFE (1969)
MARLENA SHAW - MARLENA (1972)
MARLENA SHAW - FROM THE DEPTHS OF MY SOUL (1973)
MARLENA SHAW - WHO IS THIS BITCH, ANYWAY? (1974)
MARLENA SHAW - JUST A MATTER OF TIME (1976)
MARLENA SHAW - SWEET BEGINNINGS (1977)
MARLENA SHAW - ACTING UP (1978)
NINA SIMONE - I PUT A SPELL ON YOU (1965)
NINA SIMONE - PASTEL BLUES (1965)
NINA SIMONE - WILD IS THE WIND (1966)
NINA SIMONE - NINA SIMONE SINGS THE BLUES (1967)
NINA SIMONE - SILK & SOUL (1967)
NINA SIMONE - TO LOVE SOMEBODY (1969)
NINA SIMONE - NINA SIMONE AND PIANO (1969)
NINA SIMONE - BLACK GOLD (1970)
NINA SIMONE - HERE COMES THE SUN (1971)
NINA SIMONE - BALTIMORE (1978)
VALERIE SIMPSON - EXPOSED (1971)
VALERIE SIMPSON - VALERIE SIMPSON (1972)
LESLIE SMITH - HEARTACHE (1982)
LESLIE SMITH - LES IS MORE (1992)
EDWIN STARR - WAR & PEACE (1970)
HAMISH STUART - SOONER OR LATER (2000)
SUPREMES - THE SUPREMES PRODUCED AND ARRANGED BY JIMMY WEBB (1972)
TEMPTATIONS - THE TEMPTATIONS SING SMOKEY (1965)
TEMPTATIONS - TEMPTIN' TEMPTATIONS (1965)
TEMPTATIONS - GETTIN' READY (1966)
TEMPTATIONS - WITH A LOT O' SOUL (1967)

TEMPTATIONS - WISH IT WOULD RAIN (1968)

TEMPTATIONS / SUPREMES - DIANA ROSS & THE SUPREMES JOIN THE TEMPTATIONS (1968)
---
TEMPTATIONS - CLOUD NINE (1969)

TEMPTATIONS - PUZZLE PEOPLE (1969)

TEMPTATIONS - PSYCHEDELIC SHACK (1970)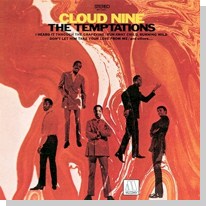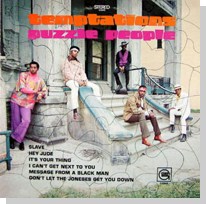 Nonostante il sofferto esonero di David Ruffin - vuoto incolmabile - i Temptations faranno ancora centro con una spettacolare trilogia "psichedelica" nel biennio 1969/1970, violando altresì il tabù che proibiva al soul di incrociare l'impegno. Il quintetto si affida alla visionaria regia di Norman Whitfield e Barrett Strong: il primo curerà la produzione, entrambi firmeranno insieme gran parte del repertorio. Con l'ingresso di Dennis Edwards, il cui timbro ruvido integra a meraviglia il soave falsetto di Eddie Kendricks, l'amabile stile degli album precedenti è stravolto da un'esplosione di chitarre distorte, tastiere lisergiche e batterie aggressive dedotte dal rock.
Cloud Nine - Sceneggiate dalle crude parole di Strong - l'una allusione a un "acid trip", l'altra cronaca di un minorenne in fuga da un'infanzia difficile - Cloud Nine e Run Away Child, Running Wild lanciarono i relativi singoli e l'intero album nella top-ten americana. Il resto del materiale comprende una bella cover di Hey Girl, standard di Carole King e Gerry Goffin ripreso nel 1993 anche da Michael McDonald (Blink Of An Eye), una versione di I Heard It Through The Grapevine alternativa a quella storica di Marvin Gaye, una manciata di classici per tutte le stagioni [Love Is A Hurtin' Thing, Why Did She Have To Leave Me (Why Did She Have To Go), I Need Your Lovin', Don't Let Him Take Your Love From Me, I Gotta Find A Way (To Get You Back)].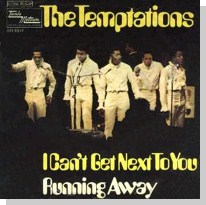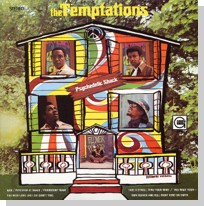 Puzzle People - I temi scomodi si fanno persino più espliciti su titoli come Slave e Message From A Black Man. Una devastante energia funk proietta I Can't Get Next To You in vetta alle classifiche, trainando con sé l'ottima interpretazione di It's Your Thing degli Isley Brothers e il no all'invidia sociale di Don't Let The Joneses Get You Down [Paul Barrère e i Little Feat riproporranno l'argomento sulla splendida Keepin' Up With The Joneses (Time Loves A Hero)]. Eddie Kendricks è ancora protagonista su You Don't Love Me No More.
Psychedelic Shack - La svolta "blaxploitation" si compie fino in fondo e senza indugi residui. Tutti i brani recano il prestigioso sigillo Whitfield/Strong, le tessiture strumentali sono dominate da piano elettrico, percussioni ipnotiche, archi e fiati incalzanti, in un immane crescendo espressivo [Psychedelic Shack, You Need Love Like I Do (Don't You), You Make Your Own Heaven And Hell Right Here On Earth, Friendship Train] che culmina nel rivoluzionario manifesto di War: introdotta da un minaccioso rullo di tamburo, concepita attorno alla geniale scansione di uno slogan tanto candido quanto efficace - «… war … what is it good for? … absolutely nothing …» - e arrangiata come fosse un comizio, rimane la più grande canzone pacifista di tutti i tempi [Bruce Springsteen e Nils Lofgren la scateneranno dal vivo contro Ronald Reagan (Live/1975-1985)]. Kendricks abbandonerà subito dopo ma, almeno durante la reggenza di Whitfield, il prestigio del marchio Temptations rimarrà intatto. (All Directions; Sky's The Limit; Solid Rock; Masterpiece; 1990). - B.A.
---
TEMPTATIONS - SKY'S THE LIMIT (1971)
TEMPTATIONS - SOLID ROCK (1972)
TEMPTATIONS - ALL DIRECTIONS (1972)
TEMPTATIONS - MASTERPIECE (1973)
TEMPTATIONS - 1990 (1973)
TEMPTATIONS - A SONG FOR YOU (1975)
ALLEN TOUSSAINT - FROM A WHISPER TO A SCREAM (1971)
ALLEN TOUSSAINT - LIFE, LOVE AND FAITH (1972)
ALLEN TOUSSAINT - SOUTHERN NIGHTS (1975)
---
ALLEN TOUSSAINT - MOTION (1978)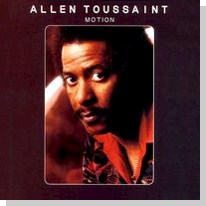 Ben prima della reclamizzata collaborazione con Elvis Costello (The River In Reverse), Allen Toussaint era già un artista di culto e un "musicians' musician". Al suo repertorio hanno attinto avidamente fuoriclasse come Robert Palmer, Frankie Miller, Pointer Sisters, Little Feat, Lowell George, Boz Scaggs, Esther Phillips, Manhattan Transfer, Glen Campbell, Elkie Brooks, Helen Reddy, tutti stregati dall'ipnotico potere di quella penna voodoo, al punto di intitolare o aprire i propri album con le canzoni del pianista di New Orleans. Anche restringendo l'analisi alla sola scaletta di Motion, troviamo ben cinque pagine nobilitate da interpretazioni eccellenti: 1) con la supervisione dello stesso autore, nel 1974 lo scozzese "nero" Frankie Miller aveva inciso la ballad With You In Mind, includendola nell'album High Life; 2) Elkie Brooks assorbirà la carica rhythm 'n' blues di Viva La Money per introdurre il suo Live And Learn; 3) stravolto dalla voce di Robert Palmer e dai fiati dei Brecker Brothers, il nuovo arrangiamento di Night People produrrà uno degli episodi più intensi del capolavoro Double Fun; 4) per la svolta rock di Energy, le Pointer Sisters agguanteranno al volo Happiness, ennesimo "instant standard" partorito da una prodigiosa mente musicale; 5) il bizzarro feeling di The Optimism Blues sarà condiviso da Helen Reddy per l'incipit dello splendido Play Me Out. Per capire come Toussaint intenda il proprio repertorio, poi, queste session sono ideali: agli ordini del guru Jerry Wexler, un'equipe di specialisti - Richard Tee (piano elettrico), Larry Carlton (chitarra), Jeff Porcaro (batteria), Chuck Rainey (basso) - asseconda la morbida voce dell'autore, decisamente più "w.a.s.p." che afro-americana e, infatti, integrata dai cori di Etta James, Bonnie Raitt, Rosemary Butler, Julia Tillman, Maxine Willard, Venetta Fields. - B.A.
---
UNDISPUTED TRUTH - THE UNDISPUTED TRUTH (1971)
UNDISPUTED TRUTH - FACE TO FACE WITH THE TRUTH (1971)
UNDISPUTED TRUTH - LAW OF THE LAND (1973)
LUTHER VANDROSS - NEVER TOO MUCH (1981)
LUTHER VANDROSS - FOREVER, FOR ALWAYS, FOR LOVE (1982)
TÀTA VEGA - FULL SPEED AHEAD (1976)
TÀTA VEGA - TOTALLY TÀTA (1977)
TÀTA VEGA - TRY MY LOVE (1978)
TÀTA VEGA - GIVIN' ALL MY LOVE (1980)
LEON WARE - LEON WARE (1972)
LEON WARE - MUSICAL MASSAGE (1976)
LEON WARE - INSIDE IS LOVE (1979)
LEON WARE - ROCKIN' YOU ETERNALLY (1981)
---
LEON WARE - LEON WARE (1982)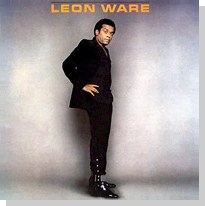 Eccellenza ... baciamo le mani. Non contento di aver prodotto I Want You, classico di Marvin Gaye, e Don't Cry Out Loud, capolavoro di Melissa Manchester, nel 1982 Leon Ware sfida i campioni A.O.R. sul loro terreno, reclutando i più quotati fuoriclasse del momento per un album ambizioso e intramontabile. Firmata da Ware insieme ai rispettivi tastieristi di Toto (David Paich) e Airplay (David Foster), Slippin' Away amalgama le finezze strumentali introdotte delle nuove leve con la passione propria del soul più verace, in una drammatica, sensuale canzone d'amore ripresa due anni dopo anche da Nancy Wilson e Ramsey Lewis (The Two Of Us). Le diverse facce di un artista eclettico sfilano senza posa lungo la scaletta: interprete sopraffino della suadente melodia di Lost In Love With You e delle nostalgiche parole di Where Are They Now?, ennesima pagina scritta da Richard Kerr e John Bettis per Barry Manilow (One Voice); versatile partner che coinvolge Janis Siegel su Why I Came To California e Flora Purim su Somewhere; riverito maestro a cui si inchinano coriste prestigiose come Rita Coolidge e Bonnie Bramlett (Words Of Love); autore di lusso e artefice, con Bill Champlin, delle sofisticate armonie di Miracles. L'inconfondibile stile della scuola di Detroit affiora su Shelter, sublime ballad in crescendo che esalta le doti vocali di Leon. - B.A.
---
DIONNE WARWICK - MAKE WAY FOR DIONNE WARWICK (1964)
DIONNE WARWICK - HERE I AM (1965)
DIONNE WARWICK - LOVE AT FIRST SIGHT (1977)
DIONNE WARWICK - DIONNE (1979)
DIONNE WARWICK - NO NIGHT SO LONG (1980)
---
DIONNE WARWICK - FRIENDS IN LOVE (1982)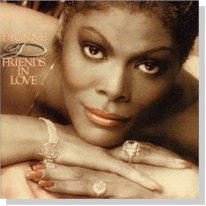 Un rimedio infallibile per arrestare la necrosi punk e debellare la piaga dei cantautori italiani. Destinato a rappresentare un momento di transizione, Friends In Love è diventato il capolavoro di Dionne Warwick, paragonabile ai classici incisi con Bacharach negli anni '60. Con canzoni firmate da Richard Page (For You) e Tom Snow (More Than Fascination) non era proibitivo realizzare un album eccellente, ma la concomitanza di alcune circostanze favorevoli risultò decisiva. La produzione di Jay Graydon raggiunge qui il suo culmine espressivo, sublimandosi in un'autentica forma d'arte: strumenti e voci vengono registrati con un'accuratezza tale da restituire dettagli sonori mai uditi altrove. Lo stesso Graydon giganteggia alla chitarra elettrica con cui, di volta in volta, accompagna usando una tecnica esecutiva mediata dal soul, o disegna raffinati arabeschi melodici, tenuti assieme da un 'sustain' inesauribile. Scritta da Skip Scarborough, rielaborata sulla falsariga di un precedente arrangiamento di David Foster per Jaye P. Morgan, Can't Hide Love mette in subbuglio i sensi dell'ascoltatore: raramente una schermaglia sentimentale era stata tradotta in musica con tanta eleganza. Spettacolari le acrobazie dei cori e della sezione fiati. Con Never Gonna Let You Go di Barry Mann e Cynthia Weil, e Betcha By Golly Wow di Thom Bell e Linda Creed, Dionne fa piazza pulita degli innumerevoli tentativi di imitazione: non esistono altre versioni lontanamente paragonabili. La lunga clausura dei session-men fu allietata dall'arrivo di Stevie Wonder, piombato in studio con lo spartito di With A Touch: a Stevie bastò sedersi al piano per ricreare la magica atmosfera di Songs In The Key Of Life, con cui poco tempo prima aveva incantato il mondo. Gli autori di After The Love Is Gone (Champlin/Foster/Graydon) propongono un'altra splendida ballad - Friends In Love - per l'appassionato duetto della Warwick con Johnny Mathis. Sarebbe già abbastanza per un'antologia di successo, ma c'è ancora spazio per What Is This?, sbalorditivo virtuosismo stilistico a metà strada tra pop e funk. - B.A.
---
DIONNE WARWICK - HEARTBREAKER (1982)
DIONNE WARWICK - HOW MANY TIMES CAN WE SAY GOODBYE (1983)
DIONNE WARWICK - WITHOUT YOUR LOVE (1985)
DIONNE WARWICK - RESERVATIONS FOR TWO (1987)
DENIECE WILLIAMS - THIS IS NIECY (1976)
DENIECE WILLIAMS - SONG BIRD (1977)
DENIECE WILLIAMS & JOHNNY MATHIS - THAT'S WHAT FRIENDS ARE FOR (1978)
DENIECE WILLIAMS - WHEN LOVE COMES CALLING (1979)
DENIECE WILLIAMS - MY MELODY (1981)
DENIECE WILLIAMS - NIECY (1982)
DENIECE WILLIAMS - I'M SO PROUD (1983)
DENIECE WILLIAMS - LET'S HEAR IT FOR THE BOY (1984)
BILL WITHERS - JUST AS I AM (1971)
BILL WITHERS - STILL BILL (1972)
BILL WITHERS - +'JUSTMENTS (1974)
BILL WITHERS - MAKING MUSIC (1975)
BILL WITHERS - NAKED & WARM (1976)
BILL WITHERS - MENAGERIE (1977)
BILL WITHERS - 'BOUT LOVE (1978)
---
BILL WITHERS - WATCHING YOU WATCHING ME (1985)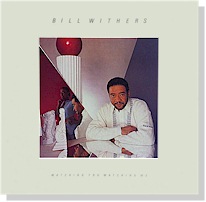 L'ultimo disco di Bill Withers arriva quando il flagello dell'I.C.S. (Indottrinamento Collettivo Sistematico) sta già calando la cortina dell'omologazione sulla musica soul. D'altra parte, che colpa abbiamo noi se correva l'anno 1985? Eppure, perfino nel tripudio coatto di suoni sintetici imposto da quei giorni infami, il vecchio leone vibra ancora la sua zampata con diverse belle canzoni e almeno un paio di evergreen. Fosse anche solo per le tre pesantissime firme - Withers insieme a David Foster e Larry Carlton … - l'introduttiva Oh Yeah! assurge subito al rango di standard (ma sarebbe comunque una splendida pop-song "per adulti"). Ad ogni passaggio Bill conferma doti di eleganza, comunicativa e spontaneità che solo i fuoriclasse (Marvin Gaye, Allen Toussaint, Bobby Womack, Lou Rawls, Al Green) riescono a sublimare in puro talento: l'incedere rilassato di Something That Turns You On, il penetrante refrain di Don't Make Me Wait, l'ipnotica pulsazione in levare di Heart In Your Life, le elegie per piano e voce di You Just Can't Smile It Away e Whatever Happens. Due pezzi d'autore aggiungono lustro alla scaletta: 1) Watching You Watching Me, sofisticata ballad scritta da William Eaton, poliedrico habituè del giro di Roberta Flack e Ralph MacDonald; 2) You Try To Find A Love, sensuale arrangiamento dagli echi esotici orchestrato dal compianto Michel Colombier [il suo album del 1979 (Michel Colombier) è un classico fusion]. - B.A.
---
BOBBY WOMACK - FLY ME TO THE MOON (1968)
BOBBY WOMACK - MY PRESCRIPTION (1970)
BOBBY WOMACK - COMMUNICATION (1971)
BOBBY WOMACK - ACROSS 110th STREET (ORIGINAL SOUNDTRACK) (1972)
BOBBY WOMACK - UNDERSTANDING (1972)
---
BOBBY WOMACK - FACTS OF LIFE (1973)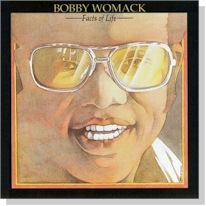 Ormai codificato il genere e raggiunta la maturità, nel biennio 1973/1974 i protagonisti si concentrano sulla personalizzazione del lessico, spinti da una foga competitiva che arricchì la discografia soul come mai prima (Let's Get It On, I Can't Stand The Rain, Fathoms Deep, Perfect Angel, David Ruffin, Eddie Kendricks etc.). Due maestri, in particolare, impongono i propri stili con altrettanti classici: Bobby Womack (Facts Of Life) e Al Green (Al Green Explores Your Mind).
Facts Of Life - Lo sfarzoso suono di tutto il disco si deve alla proverbiale coesione di una band rinomata e inimitabile: gli Swampers dello studio Muscle Shoals, con cui Bobby aveva già registrato i magnifici Understanding e Communication. L'amalgama tra talento (doti canore dell'interprete, perizia strumentale del gruppo) e ispirazione (un'epoca felice per rock, soul, folk, progressive etc.) genera lo sconforto emotivo di Nobody Wants You When You're Down And Out, il romantico slancio di I'm Through Trying To Prove My Love To You (poi incisa da Mille Jackson su Caught Up), la perfetta architettura lirica dei due medley (Holdin' On To My Baby's Love / Nobody; Facts Of Life / He'll Be There When The Sun Goes Down), il saggio, suadente realismo di If You Can't Give Her Love Give Her Up e Can't Stop A Man In Love. Come se non fosse già abbastanza, Womack ci riserva un epilogo monumentale, con tre storiche pagine d'autore: The Look Of Love* e (You Make Me Feel Like) A Natural Man†, doppio controcanto virile alle rispettive, celeberrime versioni di Dusty Springfield e Aretha Franklin; All Along The Watchtower, riletta guardando più al sublime abuso psichedelico di Jimi Hendrix - evocato con gli intarsi delle chitarre di Jimmy Johnson e Pete Carr - che al country-rock "istituzionale" di Bob Dylan. [P.S. - *Burt Bacharach e Hal David; †Carole King e Gerry Goffin.] - B.A.
---
BOBBY WOMACK - LOOKIN' FOR A LOVE AGAIN (1974)
BOBBY WOMACK - I DON'T KNOW WHAT THE WORLD IS COMING TO (1975)
BOBBY WOMACK - SAFETY ZONE (1975)
BOBBY WOMACK - HOME IS WHERE THE HEART IS (1976)
BOBBY WOMACK - PIECES (1978)
BOBBY WOMACK - ROADS OF LIFE (1979)
---
BOBBY WOMACK - THE POET (1981)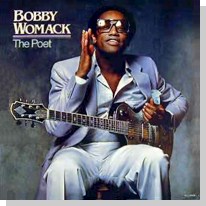 La preziosa esperienza professionale maturata durante gli anni Settanta aveva consentito a Bobby Womack di affrontare gli orrori del "riflusso" protetto da vigorosi anticorpi. L'idea dell'album nacque su iniziativa di Otis Smith, uomo d'affari afro-americano appena trombato per la presidenza Motown e proprietario dell'etichetta indipendente Beverly Glen: il turbolento rapporto tra produttore e artista finì a schifio - in tribunale i due sfiorarono la rissa - ma le memorabili, attualissime canzoni di quelle session rimangono distribuite su una splendida trilogia [The Poet; The Poet II; Someday We'll All Be Free (The Poet III)]. Il reggae rivisitato di So Many Sides Of You ribadisce l'indiscusso talento di un irresistibile trascinatore. La tenera illusione di Just My Imagination, firmata da Cecil Womack, evoca l'omonima, storica pagina dei Temptations di Sky's The Limit [Just My Imagination (Running Away With Me)]. Dopo un sofferto periodo di incompatibilità reciproca, Lay Your Lovin' On Me e Secrets riconciliano il ballo con lo spessore musicale. A ribadire l'istintivo romanticismo dell'autore, The Poet si chiude con tre ballad superlative - Games, If You Think You're Lonely Now, Where Do We Go From Here - in cui i ricami di chitarra e sax e i cori della famiglia Waters (Julia, Oren, Maxine) incorniciano i passionali monologhi del "poeta". Stupenda la misterosa "solid body" per mancini esibita in copertina. [P.S. - Nel 1997, l'impiego di Across 110th Street come tema chiave per il noir "tarantolato" Jackie Brown - si ascolta sui titoli di testa e durante un'intensa inquadratura di Pam Grier - riproporrà Bobby Womack come eroe del soul più autentico e godibile.] - B.A.
---
BOBBY WOMACK - THE POET II (1982)
BOBBY WOMACK - SOMEDAY WE'LL ALL BE FREE (THE POET III) (1985)
STEVIE WONDER - FOR ONCE IN MY LIFE (1968)
STEVIE WONDER - MY CHERIE AMOUR (1969)
STEVIE WONDER - SIGNED SEALED & DELIVERED (1970)
STEVIE WONDER - MUSIC OF MY MIND (1968)
STEVIE WONDER - TALKING BOOK (1972)
STEVIE WONDER - INNERVISIONS (1973)
STEVIE WONDER - FULFILLINGNESS' FIRST FINALE (1974)
---
STEVIE WONDER - SONGS IN THE KEY OF LIFE (1976)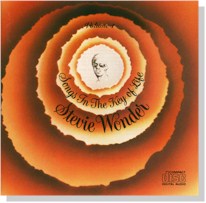 Se persino un avanguardista radicale come Steve Lacy ha espresso apprezzamento incondizionato per questo album, è evidente che Songs In The Key Of Life possiede qualcosa di speciale. La definizione di "genio", cui tante volte si ricorre a sproposito per celebrare guitti coperti di lustrini e poveri di idee, in questo caso è addirittura insufficiente per descrivere l'impresa realizzata da Stevie Wonder, e mai la nostra 'stelletta' di merito è stata attribuita a un disco che la meritasse di più (a parte Sinatra, Beatles, Zappa e 10cc). Il formato gigante originale (due LP + 4 extra-bonus contenuti in un 7") è stato riconvertito in un doppio CD che, dopo trent'anni, continua ad essere saccheggiato dai disc-jockey di tutto il mondo quando debbono nobilitare la trasmissione. Il gospel pacifista di Love's In Need Of Love Today conserva inalterata la sua carica politica, soprattutto mentre il mondo è in mano a un incapace eletto con i voti congiunti della provincia bigotta e dei maneggioni di Wall Street. Rivisitando l'abusata struttura del blues, Have A Talk With God rende attraente persino la fervida professione di fede sottintesa dal titolo. Village Ghetto Land è una passeggiata per le vie di Harlem, guidata da un quartetto d'archi "sintetico". La sequenza di capolavori è davvero incredibile: Sir Duke, festoso tributo disco-dixie ai pionieri del jazz; l'energia funk di I Wish, alimentata da una sezione fiati travolgente oggi come allora; Contusion, cavalcata strumentale condotta dalla chitarra di Michael Sembello, prossimo a diventare milionario con Maniac; Knocks Me Off My Feet e Summer Soft, melodie divine che collocano Stevland Morris nell'empireo del rock, in cui siede alla destra di Lennon & McCartney; le tinte fosche di Pastime Paradise, rilanciata come Gangsta's Paradise per la colonna sonora del film drammatico Dangerous Minds (1995); il sobrio stile A.O.R. di Ordinary Pain, con Deniece Williams e Minnie Riperton ai cori; l'arrangiamento pop di Ebony Eyes, ritratto in musica di una bomba sexy che si aggira nel ghetto; il micidiale giro armonico di Isn't She Lovely, così perfetto da indurre anche Sonny Rollins a cimentarsi con l'interpretazione (Easy Living); Joy Inside My Tears e Saturn, ballate soul di squisita fattura; il testo poliglotta di Ngiculela – Es Una Historia – I Am Singing, scritto in lingua inglese, spagnola e zulù, emblematico di un artista in preda all'estasi dell'ispirazione; l'arpa stregata di Dorothy Ashby, che lancia il suo incantesimo su If It's Magic; lo splendido tema di As, sottolineato dal piano elettrico di Herbie Hancock; l'esuberante cantilena di Another Star, che fissa sul pentagramma il sole di Rio e le spiagge di Cuba. In copertina, Stevie esprime gratitudine per il tempo e la cortesia - time and kindness - amichevolmente donati da Jeff Beck, David Bowie, Natalie Cole, Chick Corea, Doobie Brothers, Roberta Flack, Gamble & Huff, Donny Hathaway, Gil Scott-Heron, Thelma Houston, Quincy Jones, Eddie Kendricks, Carole King, Van Morrison, Harry Nilsson, Pointer Sisters, Billy Preston, Diana Ross, David Sanborn, Stephen Stills, James Taylor, Leon Ware, Dionne Warwick, Norman Whitfield, Bill Withers, Frank Zappa etc. - Domanda: ma davvero nel 1976 c'era bisogno del punk? - B.A.
---
STEVIE WOODS - TAKE ME TO YOUR HEAVEN (1981)
STEVIE WOODS - THE WOMAN IN MY LIFE (1982)
STEVIE WOODS - ATTITUDE (1983)