20th CENTURY
Chiunque si accosti alla musica classica, si imbatte puntualmente nel tradizionale repertorio scritto su commissione per papi e re (il suono con la morte spalmata sopra - F.Z.). Con un'ottusitŕ sconcertante, impresari e giornalisti continuano a censurare, nei teatri e sulla stampa, i grandi compositori del XX Secolo. In realtŕ, quella che i nazisti liquidavano come "arte degenerata", puň essere emozionante quanto una suite dei Pink Floyd. Senza la pretesa di essere esaustivi, indicheremo in questa sezione alcuni dischi che meritano di essere ascoltati. Non prima di aver riletto l'opinione di Frank Zappa. - B.A.
---
«The place where one finds the least enthusiasm for norm-nuking is in the world of the symphony orchestra. If you hand an orchestral musician a piece of new music, his instant response is likely to be: "Feh! This was written by some guy who is still alive!" - Players come into the orchestra already knowing what's 'good' - because they've played it a million times in the conservatory. [...] People who think that classical music is somehow more elevated than 'radio music' should take a look at the forms involved - and at who's paying the bills. Once upon a time, it was the king or Pope So-and-So. Today we have broadcast license holders, radio programmers, disc-jockeys and record company executives - banal reincarnations of the assholes who shaped the music of the past. The contemporary harmony textbook is the embodiment of those evils, in catalog form. When I was handed my first book and told to do the exercises, I hated the sound of the 'sample passages'. I studied them anyway. If something is hateful, you should at least know what it is you're hating so you can avoid it in the future. Many compositions that have been accepted as "GREAT ART" through the years reek of these hateful practices. For example, the rule of harmony that says: The second degree of the scale should go to the fifth degree of the scale, which should go to the first degree of the scale [II-V-I]. [...] To me, II-V-I is the essence of bad 'white-person music'. [...] It's the instructor's job to make you learn how to do all the stuff in those books. To get a grade, you must write exercises proving that you are capable of accommodating the entertainment needs of deceased kings and popes, and, after you've proved it, you get a piece of paper that says you're a composer. Is that nauseating or what? It's worse in the graduate courses that teach students how to do 'modern' music. Even modern music has hateful practices - like the twelve-tone business that says you can't play note one until you've cycled through the other eleven, theoretically thwarting tonality by giving each pitch equal importance. The Ultimate Rule ought to be: If it sounds GOOD to YOU, it's bitchen; and if it sounds BAD to YOU, it's shitty.»
FRANK ZAPPA
---
«Since I didn't have any kind of formal training, it didn't make any difference to me if I was listening to Lightnin' Slim or a vocal group called the Jewels (who had a song out then called Angel In My Life), or Webern, or Varčse, or Stravinsky. To me it was all good music.»
FRANK ZAPPA
---
BÉLA BARTÓK - 6 STRING QUARTETS


EMERSON STRING QUARTET (Deutsche Grammophon)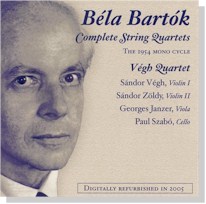 BÉLA BARTÓK - 6 STRING QUARTETS


HUNGARIAN STRING QUARTET (Deutsche Grammophon)
BÉLA BARTÓK - THE STRING QUARTETS
TOKYO STRING QUARTET (Deutsche Grammophon)
BÉLA BARTÓK - THE 6 STRING QUARTETS
NOVÁK QUARTET (Philips)
BÉLA BARTÓK - THE COMPLETE STRING QUARTETS


TAKÁCS QUARTET (Hungaroton)
BÉLA BARTÓK - THE SIX STRING QUARTETS
JUILLIARD STRING QUARTET (Sony)
BÉLA BARTÓK - COMPLETE STRING QUARTETS


VÉGH QUARTET (Music & Arts)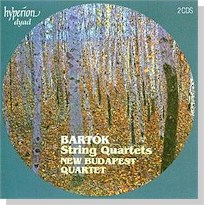 BÉLA BARTÓK - STRING QUARTETS
NEW BUDAPEST QUARTET (Hyperion)
I sei quartetti per archi di Bartók, rappresentano, nel loro complesso, un monumento musicale tra i piů significativi della musica contemporanea, un costante punto di riferimento in rapporto alla problematica del nostro tempo. - Armando Gentilucci
Per profonditŕ di pensiero, ricchezza inventiva e coerenza strutturale, l'itinerario artistico percorso da Bartók nei sei Quartetti per archi costituisce una delle esperienze piů suggestive e linguisticamente rilevanti della musica del Novecento. I Quartetti di Bartók sono legati da un'importante caratteristica: l'esplorazione di possibilitŕ timbriche nuove che, a partire dal primo decennio del secolo, il compositore andava sperimentando anche con altri organici strumentali. Tale processo di emancipazione del suono riguarda non solo l'ampliamento della gamma espressiva del medium quartettistico, attraverso l'introduzione di una gran varietŕ di colpi d'arco (col legno, sulla tastiera, a punta d'arco, sul ponticello, pizzicato, martellato) o di effetti particolari (glissando), ma anche la creazione di suggestive atmosfere sonore, costituite da bagliori e fruscii appena percettibili, quasi al limite del rumore, che trovano la loro piena estrinsecazione nei movimenti lenti.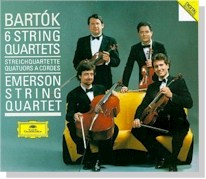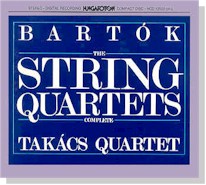 La sapiente scrittura del compositore ungherese, altamente formalizzata, non riduce mai la musica a pura architettura sonora; anzi, grazie alla matrice folklorica cui attinge la sua ispirazione, essa rimane sempre "linguaggio" dotato di un suo preciso e intenso potenziale espressivo da comunicare all'ascoltatore. La sua musica, fondata sul lento procedere di cellule tematiche simile al formicolio delle particelle costitutive della materia, torna dunque ad essere metafora dell'harmonia mundi, cioč della natura e dell'uomo. - Gloria Staffieri
---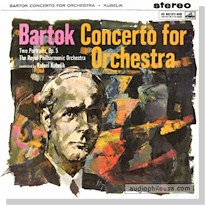 BÉLA BARTÓK - PIANO CONCERTOS Nos. 1 & 2
MAURIZIO POLLINI / CLAUDIO ABBADO (Deutsche Grammophon)
BÉLA BARTÓK - CONCERTO FOR ORCHESTRA
RAFAEL KUBELIK (His Master's Voice)
BÉLA BARTÓK - CONCERTO FOR ORCHESTRA
FRITZ REINER / CHICAGO SYMPHONY ORCHESTRA (RCA)
BÉLA BARTÓK - CONCERTO FOR ORCHESTRA
HERBERT VON KARAJAN / BERLIN PHILHARMONIC (Deutsche Grammophon)
ALBAN BERG - CHAMBER CONCERTO FOR PIANO AND VIOLIN WITH 13 WIND INSTRUMENTS / 3 ORCHESTRAL PIECES Op. 6 / VIOLIN CONCERTO
PIERRE BOULEZ (Sony)
JOHN CAGE / WITOLD LUTOSLAWSKY / TOSHIRO MAYUZUMI / KRISZTOF PENDERECKI - STRING QUARTETS
LaSALLE QUARTET (Deutsche Grammophon)
ELLIOTT CARTER - THE FOUR STRING QUARTETS


JUILLIARD STRING QUARTET (Sony)
---
AARON COPLAND - APPALACHIAN SPRING / FANFARE FOR THE COMMON MAN / EL SALÓN MÉXICO / DANZÓN CUBANO
LEONARD BERNSTEIN / NEW YORK PHILHARMONIC (Sony)
AARON COPLAND - BILLY THE KID / RODEO
LEONARD BERNSTEIN / NEW YORK PHILHARMONIC (Sony)
AARON COPLAND - BILLY THE KID
AARON COPLAND / LONDON SYMPHONY ORCHESTRA (Everest Records)
AARON COPLAND - APPALACHIAN SPRING
WALTER SUSSKIND / LONDON SYMPHONY ORCHESTRA (Everest Records)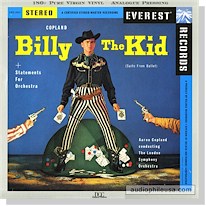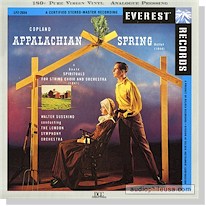 La tendenza a semplificare stilemi legati a ben precisi retroterra culturali per usarli ecletticamente, con abile retorizzazione, fa di Copland un musicista molto "americano", accessibile, abilissimo come strumentatore, capace di fondere la tecnica polidiatonica del neoclassicismo europeo col jazz e i canti dei cow-boy, senza disdegnare accenni roboanti e "cinematografici". Nella forma del "balletto", egli ha dato il meglio di sé. Billy The Kid narra la storia del famoso bandito e la musica si serve largamente di temi "western" (The Dying Cow-Boy; Old Paint; The Old Chisholm Trail), creando una partitura coloratissima, piacevole, orchestrata magistralmente, ricca di ritmi contrastanti. Le variazioni tematiche di Rodeo riflettono un momento tipico della vita popolare del West, rievocando un mitico paesaggio da favola moderna. Su Appalachian Spring l'azione prende avvio dai festeggiamenti che un gruppo di coloni dedica a una nuova fattoria, ove prenderŕ dimora una giovane coppia: tanto nelle danze quanto nei passaggi meditativi, risuonano gli echi di un romanticismo che Copland sembra voler recuperare, ma solo per un attimo, come per dare l'addio a un intero mondo.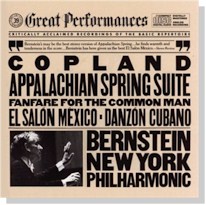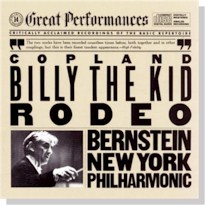 Nelle pagine di Appalachian Spring vi č la sconfinata ampiezza degli orizzonti americani, la solennitŕ solitaria di vaste terre da dissodare, lo spirito ingenuamente religioso dei pionieri protestanti a contatto con dure condizioni ambientali. - Armando Gentilucci
---
CLAUDE DEBUSSY / MAURICE RAVEL - STRING QUARTETS
BUDAPEST STRING QUARTET (Sony)
CLAUDE DEBUSSY / MAURICE RAVEL - STRING QUARTETS
EMERSON STRING QUARTET (Deutsche Grammophon)
CLAUDE DEBUSSY - ARTURO BENEDETTI MICHELANGELI PLAYS DEBUSSY
ARTURO BENEDETTI MICHELANGELI (Deutsche Grammophon)
CLAUDE DEBUSSY - ORCHESTRAL WORKS
PIERRE BOULEZ (Sony)
GEORGE GERSHWIN - RHAPSODY IN BLUE / AN AMERICAN IN PARIS
FELIX SLATKIN / LEONARD PENNARIO / HOLLYWOOD BOWL ORCHESTRA (EMI)
GEORGE GERSHWIN - RHAPSODY IN BLUE / AN AMERICAN IN PARIS
JAMES LEVINE / CHICAGO SYMPHONY ORCHESTRA (Deutsche Grammophon)
HANS WERNER HENZE - SYMPHONIEN 1-6
HANS WERNER HENZE / BERLINER PHILARMONIKER / LONDON SYMPHONY ORCHESTRA (Deutsche Grammophon)
HANS WERNER HENZE - STREICHQUARTETTE 1-5
ARDITTI STRING QUARTET (Wergo)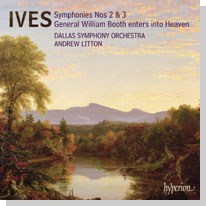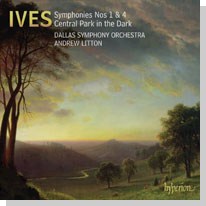 PAUL HINDEMITH - THE 3 PIANO SONATAS
GLENN GOULD (Sony)
CHARLES IVES - THE SYMPHONIES
CHRISTOPH VON DOHNÁNYI / NEVILLE MARRINER / ZUBIN MEHTA (Decca)
CHARLES IVES - SYMPHONIES Nos. 1 & 4
ANDREW LITTON / DALLAS SYMPHONY ORCHESTRA (Hyperion)
CHARLES IVES - SYMPHONIES Nos. 2 & 3
ANDREW LITTON / DALLAS SYMPHONY ORCHESTRA (Hyperion)
CHARLES IVES - SYMPHONIES Nos. 2 & 3
LEONARD BERNSTEIN / NEW YORK PHILHARMONIC (Sony)
CHARLES IVES - SYMPHONY N°3 / DECORATION DAY / CENTRAL PARK IN THE DARK / THE UNANSWERED QUESTION
LEONARD BERNSTEIN / NEW YORK PHILHARMONIC (Columbia)
CHARLES IVES - SYMPHONY N°4
LEOPOLD STOKOWSKI / AMERICAN SYMPHONY ORCHESTRA (Columbia)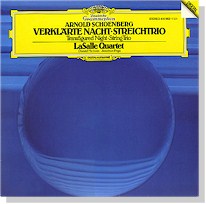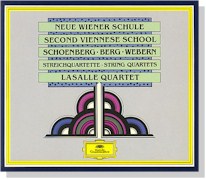 GUSTAV MAHLER - 10 SYMPHONIEN
RAFAEL KUBELIK (Deutsche Grammophon)
GUSTAV MAHLER - 10 SYMPHONIEN
CLAUDIO ABBADO (Deutsche Grammophon)
SERGE PROKOFIEV - 7 SYMPHONIES
SEIJI OZAWA / BERLINER PHILHARMONIKER (Deutsche Grammophon)
MAURICE RAVEL - THE ORCHESTRAL WORKS
PIERRE BOULEZ (Sony)
ERIK SATIE - PIANO WORKS
DANIEL VARSANO / PHILIPPE ENTREMONT (Sony)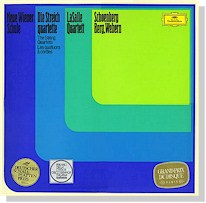 ARNOLD SCHOENBERG / ALBAN BERG / ANTON WEBERN - STRING QUARTETS


LaSALLE QUARTET (Deutsche Grammophon)
ARNOLD SCHOENBERG / ALBAN BERG / ANTON WEBERN - ORCHESTERWERKE
HERBERT VON KARAJAN / BERLINER PHILHARMONIKER (Deutsche Grammophon)
ARNOLD SCHOENBERG - VERKLÄRTE NACHT / STREICHTRIO
LaSALLE QUARTET (Deutsche Grammophon)
ALEXANDER SCRIABIN - THE PIANO SONATAS
ROBERTO SZIDON (Deutsche Grammophon)
IGOR STRAVINSKY - LE SACRE DU PRINTEMPS / PÉTROUCHKA
PIERRE BOULEZ (Sony)
IGOR STRAVINSKY - LE SACRE DU PRINTEMPS / L'OISEAU DE FEU


CLAUDIO ABBADO / LONDON SYMPHONY ORCHESTRA (Deutsche Grammophon)
IGOR STRAVINSKY - THE FIREBIRD SUITE / PULCINELLA SUITE / SCHERZO FANTASTIQUE / 2 SUITES FOR SMALL ORCHESTRA
PIERRE BOULEZ (Sony)
EDGAR VARČSE / ELLIOTT CARTER - DÉSERTS / ECUATORIAL / HYPERPRISM / A SYMPHONY OF THREE ORCHESTRAS
PIERRE BOULEZ (Sony)
---
EDGAR VARČSE - IONISATION / DENSITY 21.5 / INTÉGRALES / OCTANDRE


RENÉ LE ROY / N.Y. WIND ENSEMBLE / FREDERIC WALDMAN / JUILLIARD PERCUSSION ORCHESTRA (EMS 401)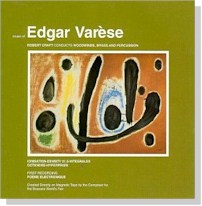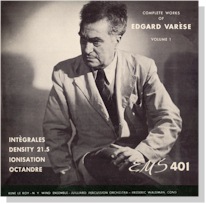 EDGAR VARČSE - IONISATION / DENSITY 21.5 / INTÉGRALES / OCTANDRE / HYPERPRISM / POČME ÉLECTRONIQUE


ROBERT CRAFT / COLUMBIA SYMPHONY ORCHESTRA (CBS)
EDGAR VARČSE - ARCANA / INTÉGRALES / IONISATION


ZUBIN MEHTA / LOS ANGELES PHILHARMONIC ORCHESTRA (Orphic Egg)
EDGAR VARČSE - IONISATION / AMÉRIQUES / DENSITY 21.5 / OFFRANDES / ARCANA / OCTANDRE / INTÉGRALES
PIERRE BOULEZ (Sony)
EDGAR VARČSE - AMÉRIQUES / ARCANA / DÉSERTS / IONISATION


PIERRE BOULEZ (Deutsche Grammophon)
EDGAR VARČSE - THE COMPLETE WORKS


RICCARDO CHAILLY / ROYAL CONCERTGEBOUW ORCHESTRA / ASKO ENSEMBLE (Decca)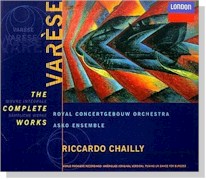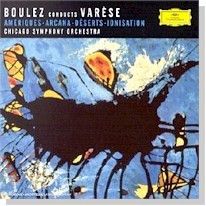 Anticonformista e americano nel senso migliore e piů sfuggente, perché ineffettuato, quello delle grandi occasioni perdute di costruire ex novo una societŕ migliore, Varčse si č mosso nella direzione di un acuito interesse per la materia, per l'elemento acustico preso in sé, per la ricerca di laboratorio: [...] egli scopre ed elabora il suono e il rumore svincolati da ogni dialettica convenzionale, da ogni "legalitŕ" o schema preesistente all'atto stesso del comporre, cercando piuttosto di ricostruire, con l'uso di materie sonore eterogenee, il senso di una prorompente vitalitŕ istintiva, di un primitivo dialogo dell'uomo con la natura e con le "cose" (nel nostro caso con gli "oggetti" acustici) che lo circondano. [...] Una nuova verginitŕ infuria in composizioni come Ionisation, Octandre, Intégrales. - Armando Gentilucci
---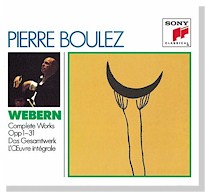 ANTON WEBERN - COMPLETE WORKS
PIERRE BOULEZ / JUILLIARD STRING QUARTET (Sony)
ANTON WEBERN - COMPLETE WEBERN
PIERRE BOULEZ (Deutsche Grammophon)
FRANK ZAPPA - MUSIC BY FRANK ZAPPA


OMNIBUS WIND ENSEMBLE (Opus 3)
FRANK ZAPPA - THE ZAPPA ALBUM
ENSEMBLE AMBROSIUS (BIS)
FRANK ZAPPA - GREGGERY PECCARY & OTHER PERSUASIONS
ENSEMBLE MODERN (RCA)
ALEXANDER ZEMLINSKY - THE STRING QUARTETS


LaSALLE QUARTET (Deutsche Grammophon)