ROCK
---
TALKING HEADS - MORE SONGS ABOUT BUILDINGS AND FOOD (1978)
TALKING HEADS - FEAR OF MUSIC (1979)
TALKING HEADS - REMAIN IN LIGHT (1980)
TASTE - TASTE (1969)
TASTE - ON THE BOARDS (1970)
PETE TOWNSHEND - WHO CAME FIRST (1972)
PETE TOWNSHEND / RONNIE LANE - ROUGH-MIX (1977)
---
PETE TOWNSHEND - EMPTY GLASS (1980)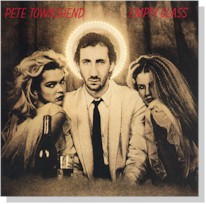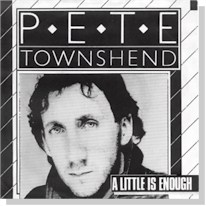 Come dimostrano altre celebri copertine (Breakaway; Angel Heart), la foto accanto a una bella ragazza viene sempre bene e, nonostante abusi etilici (Rémy Martin) e lutti dolorosi (Keith Moon), i '70 ci consegnano l'autore di Tommy e Quadrophenia in buone condizioni e ancora capace di trasmettere emozioni forti. Nell'epoca dei fondamentalismi più retrivi, l'aureola esibita da Pete celebra una beatificazione finalmente meritata. Il vecchio 'mod' aveva già mostrato notevole prontezza di riflessi con le zampate di Who Are You e Face Dances. Incoraggiato a tornare in studio dal boss dell'Atlantic - Ahmet Ertegün - Townshend realizza un album graffiante, vivace, inciso magnificamente, gratificato da un ottimo successo e anche da un singolo nei top-ten U.S.A. (Let My Love Open The Door). Il rinomato gusto di Pete per i contrasti cromatici è ancora fecondo: nel disco si alternano spunti hard e squarci melodici (Empty Glass; Gonna Get Ya), incontenibili slanci passionali (I Am An Animal; A Little Is Enough) e un paio di splendide stravaganze come And I Moved, scandita dal 'beat' elastico di Simon Phillips e sfiorata da un arpeggio quasi "liquido" del piano acustico, e Keep On Working, con il suo articolato svolgimento melodico-narrativo.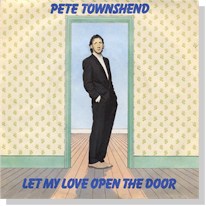 Ogni canzone è segnata da un talento poetico che impone la presenza di Townshend in un ideale Monte Rushmore del rock, accanto ai volti effigiati di Lennon, McCartney e Bowie. [P.S. - Irrilevante e, tutto sommato, veniale la dedica ai Sex Pistols (Rough Boys)] - B.A.
---
PETE TOWNSHEND - ALL THE BEST COWBOYS HAVE CHINESE EYES (1982)
PAT TRAVERS - PAT TRAVERS (1976)
PAT TRAVERS - MAKIN' MAGIC (1977)
PAT TRAVERS - PUTTING IT STRAIGHT (1977)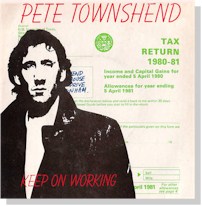 PAT TRAVERS - HEAT IN THE STREET (1978)
PAT TRAVERS - GO FOR WHAT YOU KNOW (1978)
PAT TRAVERS - CRASH AND BURN (1980)
PAT TRAVERS - BLACK PEARL (1982)
PAT TRAVERS - HOT SHOT (1984)
URIAH HEEP - ... VERY 'EAVY ... VERY 'UMBLE (1970)
URIAH HEEP - SALISBURY (1971)
URIAH HEEP - LOOK AT YOURSELF (1971)
URIAH HEEP - DEMONS AND WIZARDS (1972)
URIAH HEEP - THE MAGICIAN'S BIRTHDAY (1972)
UTOPIA - OOPS! WRONG PLANET (1977)
UTOPIA - ADVENTURES IN UTOPIA (1980)
---
UTOPIA - DEFACE THE MUSIC (1980)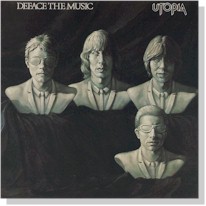 Che sia il più bello può essere opinabile. Tuttavia, insieme a Gaucho (Steely Dan), e per motivi diversissimi, Deface The Music è l'album più importante del 1980. Liquidato superficialmente come affettuoso omaggio agli anni '60, il disco contiene in realtà una riflessione seria e illuminante sul mistero Beatles, eguagliata sul piano dell'analisi stilistica solo dall'audace esperimento degli XTC che, con lo pseudonimo di Dukes Of Stratosphear, hanno celebrato il proprio amore per il rock psichedelico (Chips From The Chocolate Fireball). L'intento del titolo - Sfigurare La Musica - trova riscontro in un processo creativo che ricorda le proteiformi mutazioni della "Cosa" di Carpenter: con l'abilità tecnica sviluppata durante la registrazione di Faithful, e un pizzico di incoscienza, gli Utopia svuotano le canzoni di Lennon & McCartney, per poi rianimarne le spoglie con melodie e parole nuove ma affini agli originali. Il risultato è impressionante. Rispolverando chitarre e amplificatori d'epoca, la band produce in laboratorio i cloni di Can't Buy Me Love (Crystal Ball), Michelle (All Smiles), Eleanor Rigby (Life Goes On), Getting Better (Feel Too Good), Penny Lane (Hoi Poloi), Strawberry Fields Forever (Everybody Else Is Wrong) e altre gemme del catalogo Northern Songs. Addirittura sconvolgente la metamorfosi che dà vita a Take It Home, una mefistofelica imitazione del riff di Day Tripper. Le numerose citazioni strumentali e liriche mettono alla prova la preparazione degli appassionati più colti. Agli altri resta un capolavoro il cui straordinario valore artistico prescinde dalla somiglianza con i classici a cui si ispira. - B.A.
---
UTOPIA - SWING TO THE RIGHT (1982)
---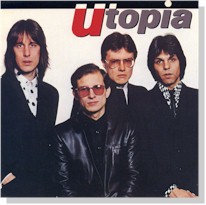 Un fraterno suggerimento per gli "smanettoni" rock. Invece di girare a vuoto fra aridi prodotti commerciali, fantocci di plastica e porcherie reclamizzate dai media, provate a crescere con un disco in grado di lasciarvi qualcosa dentro. Ad esempio questo. Allineati dietro un'immagine rigidamente democratica - in realtà capitanati da Todd Rundgren - gli Utopia sono quattro amici, eccellenti strumentisti e cantanti, che si divertono a sfogare la comune passione per i modelli di sempre: Beatles, Who, Kinks, Yardbirds, Beach Boys etc. - Nell'omonimo titolo del 1982 le ingenue ridondanze formali di alcuni album precedenti (RA) lasciano spazio alla concisione espressiva del pop anni '60, corretta con uno spruzzo di soul. Una sequenza ininterrotta di melodie indovinate, assoli brucianti e superbi sincronismi vocali fa la differenza con le pseudo-trasgressioni 'new wave' dell'epoca, ormai precipitate nel giusto oblio. Le canzoni sono tutte magnifiche. A Roger Powell (tastiere) toccano in sorte due tra i pezzi più gustosi: Feet Don't Fail Me Now e Burn Three Times. Kasim Sulton (basso) ci mette in guardia dalla dissoluta Libertine, per poi dialogare con Rundgren (chitarre, tastiere) su diversi episodi, stilisticamente molto vari (Bad Little Actress; There Goes My Inspiration; Say Yeah; Call It What You Will), talora illuminati da improvvisi riflessi psichedelici (Infrared And Ultraviolet; Private Heaven). A sua volta Todd passa dalle scariche elettriche di Hammer In My Heart al coinvolgente 'philly mood' di I'm Looking At You But I'm Talking To Myself, per chiudere in bellezza con Chapter And Verse, uno dei 15 potenziali singoli di un CD perfetto. - B.A.
---
UTOPIA - OBLIVION (1984)
UTOPIA - POV (1985)
---
VINYL KINGS - A LITTLE TRIP (2002)
They're bloody musical archeologists … - Steve Winwood
If I were McCartney, I would sue these guys they're so good! - Jimmy Buffett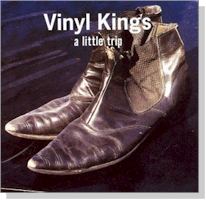 Nostalgia? E di cosa? Di una musica che ci accompagna ogni giorno ovunque andiamo? Che ha segnato indelebilmente le nostre vite? Che ci ha reso immuni al veleno di "ficton" e "reality"? Che ci ha protetto dal viscido proselitismo di Giancarlo Cesana? No, i Beatles sono una presenza viva, assidua, rincuorante. Dunque, quando un gruppo di stimati veterani rock decide di abbandonarsi a quella passione, l'evento va promosso senza riserve. Larry Lee, leader carismatico degli Ozark Mountain Daredevils ed eroe dell'indimenticabile Marooned, Jim Photoglo, cane sciolto del movimento A.O.R., Larry Byrom, tastierista degli Steppenwolf, insieme a Josh Leo (chitarre), Harry Stinson (batteria) e Michael Rhodes (basso) riprendono il discorso lasciato in sospeso da Utopia (Deface The Music) e XTC/Dukes Of Stratosphear (Chips From The Chocolate Fireball). Una formula semplice, ma di grande fascino: canzoni nuove, scritte, suonate e cantate nello spirito di quegli anni formidabili. A Little Trip racconta la fatidica sera (9 Febbraio 1964) in cui l'Ed Sullivan Show cambiò la vita a milioni di giovani americani. A seguire, un tripudio di passaggi, citazioni e riferimenti d'epoca. Se il respiro heavy di Losing My Mind rimanda a Come Together, il riff elettrico di I Think I Know deriva direttamente da And Your Bird Can Sing. Il McCartney più nobile viene evocato con le soavi melodie di Here We Go Again, Mother Dear e What If It Were You. Su Bang Bang spunta il martelletto metallico di Maxwell's Silver Hammer, mentre la voce fa il verso al Lennon "acido" di I Am The Walrus. Photoglo si ispira proprio al manifesto della psichedelia per l'abbuffata di Chocolate Cake. Il trip indiano di Harrison rivive nel sitar e negli echi esotici di Leave This Town. In chiusura, Lee ci brucia gli occhi con Dreams, ballad spectoriana che irradia il bianco abbagliante di Imagine. - B.A.
---
VINYL KINGS - TIME MACHINE (2004)
LOUDON WAINWRIGHT III - LOUDON WAINWRIGHT III (1970)
LOUDON WAINWRIGHT III - ALBUM II (1971)
LOUDON WAINWRIGHT III - ALBUM III (1972)
LOUDON WAINWRIGHT III - ATTEMPTED MOUSTACHE (1974)
LOUDON WAINWRIGHT III - T SHIRT (1976)
LOUDON WAINWRIGHT III - FINAL EXAM (1978)
LOUDON WAINWRIGHT III - FAME AND WEALTH (1982)
LOUDON WAINWRIGHT III - I'M ALRIGHT (1986)
LOUDON WAINWRIGHT III - THERAPY (1988)
LOUDON WAINWRIGHT III - GROWN MAN (1996)
LOUDON WAINWRIGHT III - LITTLE SHIP (1997)
LOUDON WAINWRIGHT III - SOCIAL STUDIES (1999)
LOUDON WAINWRIGHT III - LAST MAN ON EARTH (2001)
LOUDON WAINWRIGHT III - HERE COME THE CHOPPERS! (2005)
CLIFFORD T. WARD - SINGER - SONGWRITER (1972)
CLIFFORD T. WARD - HOME THOUGHTS (1973)
CLIFFORD T. WARD - MANTLE PIECES (1973)
CLIFFORD T. WARD - ESCALATOR (1975)
CLIFFORD T. WARD - NO MORE ROCK 'N' ROLL (1975)
CLIFFORD T. WARD - WAVES (1976)
CLIFFORD T. WARD - NEW ENGLAND DAYS (1977)
CLIFFORD T. WARD - BOTH OF US (1984)
JENNIFER WARNES - I CAN REMEMBER EVERYTHING (1968)
JENNIFER WARNES - SEE ME, FEEL ME, TOUCH ME , HEAL ME (1969)
JENNIFER WARNES - JENNIFER (1972)
JENNIFER WARNES - JENNIFER WARNES (1976)
JENNIFER WARNES - SHOT THROUGH THE HEART (1979)
JENNIFER WARNES - FAMOUS BLUE RAINCOAT (1986)
JENNIFER WARNES - THE HUNTER (1992)
BONNIE WHITE - SUITE FROM THE OTHER END (1971)
WHITESNAKE - LOVEHUNTER (1979)
WHITESNAKE - COME AN' GET IT (1981)
WHO - WHO'S NEXT (1971)
WHO - QUADROPHENIA (1973)
---
WHO - THE WHO BY NUMBERS (1975)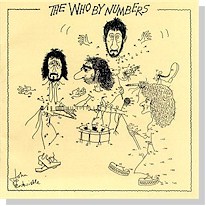 The Who By Numbers è tradizionalmente considerato un album "minore", ma la sobria produzione di Glyn Johns, mirata a preservare l'energia della band curando al tempo stesso la qualità sonora, valorizzò una manciata di nuove, brillanti canzoni uscite dalla fertile penna di Pete Townshend (Slip Kid; However Much I Booze; Squeeze Box). Tuttavia, le vacue banalità della stampa musicale - "il più grande gruppo rock … il più grande chitarrista ritmico" etc. - hanno proibito a un esercito di appassionati di apprezzare, anche in questo disco, il versante più intimo e complesso dell'autore Townshend, troppo a lungo trascurato: Imagine A Man, They Are All In Love (con Nicky Hopkins al piano) e la struggente Blue Red And Grey, una poesia arrangiata per ukulele e piccola sezione ottoni, cantata con dolente trasporto dallo stesso Pete. - B.A.
---
WHO - WHO ARE YOU (1978)
WHO - FACE DANCES (1981)
JOHNNY WINTER - JOHNNY WINTER (1969)
JOHNNY WINTER - SECOND WINTER (1969)
JOHNNY WINTER - STILL ALIVE AND WELL (1973)
JOHNNY WINTER - NOTHIN' BUT THE BLUES (1977)
WISHBONE ASH - WISHBONE ASH (1970)
WISHBONE ASH - PILGRIMAGE (1971)
WISHBONE ASH - ARGUS (1972)
WISHBONE ASH - WISHBONE FOUR (1973)
WISHBONE ASH - THERE'S THE RUB (1974)
WISHBONE ASH - LOCKED IN (1976)
WISHBONE ASH - NEW ENGLAND (1976)
WISHBONE ASH - FRONT PAGE NEWS (1977)
WISHBONE ASH - NO SMOKE WITHOUT FIRE (1978)
WISHBONE ASH - JUST TESTING (1980)
WISHBONE ASH - NUMBER THE BRAVE (1981)
WISHBONE ASH - NOUVEAU CALLS (1987)
WISHBONE ASH - HERE TO HEAR (1989)
WORKING WEEK - WORKING NIGHTS (1985)
---
XTC - DRUMS AND WIRES (1979)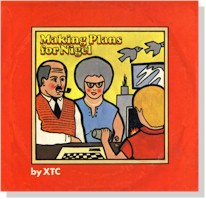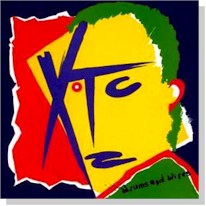 Con la sua sottile scienza della melodia applicata ai tempi moderni, con velocizzazioni e ralenti improvvisi, Drums And Wires fu il capolavoro della loro adolescenza musicale, un disco fatto di potenziali e straordinari singoli. Life Begins At The Hop fu il primo a entrare in classifica, con un "up-tempo" da aritmia cardiaca e un irresistibile sapore anni Sessanta. Making Plans For Nigel è tuttora uno dei più affascinanti misteri dell'arte della canzone "3 minuti e via". Gli XTC dimostrarono di essere i primi della nuova generazione a riprendere in mano i Beatles, a riconsiderare il passato, a elaborare qualcosa di estremamente nuovo senza cancellare il vecchio. Un anno dopo, o quasi, smetteranno di suonare dal vivo. Come Beatles e Steely Dan. - Enrico Sisti
---
XTC - BLACK SEA (1980)
XTC - ENGLISH SETTLEMENT (1982)
XTC - MUMMER (1983)
XTC - THE BIG EXPRESS (1984)
---
XTC - SKYLARKING (1986)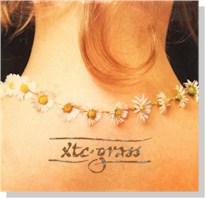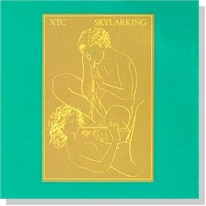 Musician and producer Todd Rundgren squeezed the XTC clay into its most complete/connected/cyclical record ever. Not an easy album to make for various ego reasons, but time has humbled me into admitting that Todd conjured up some of the most magical production and arranging conceivable. A summer's day cooked into one cake. - Andy Partridge
Durante la registrazione di Skylarking fu incisa anche la coraggiosa Dear God, inizialmente esclusa dal LP e pubblicata solo sul retro del 45 giri Grass. La canzone colse un piccolo successo sotterraneo, propagato poi dal passaparola degli ascoltatori.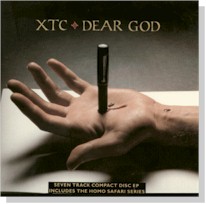 L'immancabile, volgare speculazione discografica scatenò una forsennata caccia all'inedito, costringendo i collezionisti a rincorrere antologie e ristampe varie. Solo di recente i traffichini della Virgin si sono decisi a pubblicare l'edizione definitiva dell'album, contenente tutti i 10 brani originali con l'aggiunta di Dear God. - B.A.
---
XTC - ORANGES AND LEMONS (1989)
XTC - NONSVCH (1992)
XTC - APPLE VENUS (1999)
XTC - WASP STAR (APPLE VENUS VOLUME 2) (2000)
YARDBIRDS - FOR YOUR LOVE (1965)
YARDBIRDS - OVER UNDER SIDEWAYS DOWN (1963/1968)
NEIL YOUNG - AFTER THE GOLD RUSH (1970)
NEIL YOUNG - HARVEST (1972)
STILLS / YOUNG BAND - LONG MAY YOU RUN (1976)
NEIL YOUNG - COMES A TIME (1978)
WARREN ZEVON - WARREN ZEVON (1976)
WARREN ZEVON - EXCITABLE BOY (1978)