PAUL McCARTNEY
---
PAUL McCARTNEY - McCARTNEY (1970)
PAUL McCARTNEY - RAM (1971)
PAUL McCARTNEY - WILD LIFE (1971)
PAUL McCARTNEY - RED ROSE SPEEDWAY (1973)
---
PAUL McCARTNEY - BAND ON THE RUN (1974)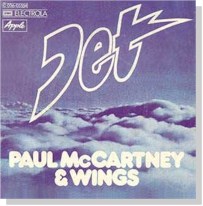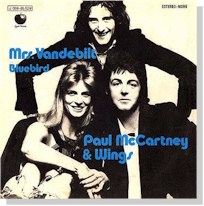 Il contributo di Paul alla causa della bellezza universale è stato determinante: Mamunia, Jet, Band On The Run. Solo Paul poteva scrivere Bluebird, e solo Paul poteva cantarla così: micidiale semplicità post-beatlesiana. No Words, Mrs Vandebilt, Nineteen Hundred And Eighty Five, Let Me Roll It: il tempo ha agito su queste canzoni come una cantina può agire su un rosso di Borgogna. - Enrico Sisti
In occasione del 25° anniversario dalla pubblicazione, la EMI ha stampato uno splendido cofanetto in edizione limitata che, oltre al 45 inedito Helen Wheels, contiene un libretto con le note di Mark Lewisohn, un mini-poster che riproduce le foto originali scattate da Linda, e un secondo CD in cui Paul rievoca la genesi dell'album insieme ad alcuni protagonisti. Affiorano così i ricordi personali di Denny Laine, prezioso e discreto collaboratore musicale, mentre Dustin Hoffman racconta di come suggerì l'idea di Picasso's Last Words a McCartney.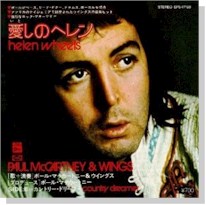 Indimenticabile la foto di copertina: un gruppo di detenuti sorpresi durante l'evasione, impersonati da alcune star dello schermo, tra cui James Coburn e Christopher Lee. Insieme a Tug Of War è il capolavoro di Paul dopo la stagione con i Beatles. Un disco perfetto e senza tempo. Brano migliore: tutti. - B.A.
---
PAUL McCARTNEY - VENUS AND MARS (1975)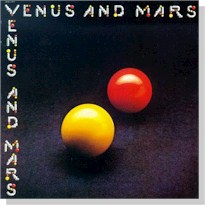 Non pago dei miracoli compiuti con i Beatles, quest'uomo benedetto continua a dispensare gioia anche nel corso di un'incredibile carriera solista. Sempre in giro per il mondo, dopo aver inciso Band On The Run in Nigeria (Lagos), Paul si sposta negli Stati Uniti (Los Angeles, New Orleans), dove incontra Tom Scott, Dave Mason e Allen Toussaint. Con una band ormai collaudata, il fido Denny Laine accanto e il sostegno affettivo di Linda, egli è pronto a trasformare il proprio soprannaturale intuito melodico in nuove opere d'arte. La placida atmosfera di Venus And Mars prelude a una dionisiaca celebrazione del moderno rito pagano - Rock Show - grazie a cui Jimmy Page ottiene l'onore di una citazione in un testo di Paul McCartney. Tra le creazioni predilette dell'autore, Listen To What The Man Said alterna il sax di Tom Scott a un accattivante refrain elettrico. Il gospel rivisitato di Call Me Back Again offre un'altra immensa interpretazione di Paul, sulla falsariga dell'immortale Oh! Darling (Abbey Road). Love In Song è una soave serenata acustica percorsa da suggestive reminiscenze dell'altro ieri (And I Love Her; Here, There And Everywhere etc.). You Gave Me The Answer rende omaggio agli stessi 'Roaring Twenties' che ispiravano la nostalgica Honey Pie su The Beatles. La poderosa spinta ritmica di Letting Go è alimentata dai riff sovrapposti delle chitarre e da una sezione fiati che introduce il grintoso tema parallelo. Legando insieme due canzoni non ultimate, Treat Her Gently - Lonely Old People, Paul compone una ballad vicina a capolavori come My Love (Red Rose Speedway) e Six O'Clock (Ringo). L'epilogo orchestrale di Crossroads chiude l'album evocando la magniloquenza di The End (Abbey Road). La prossima volta che qualcuno accennerà alle balorde metafore di Kagan, Wolfowitz e dei Neo-Cons, zittitelo con la musica di Venus And Mars. - B.A.
---
PAUL McCARTNEY - WINGS AT THE SPEED OF SOUND (1976)
PAUL McCARTNEY - LONDON TOWN (1978)
PAUL McCARTNEY - WINGS GREATEST (1978)
PAUL McCARTNEY - BACK TO THE EGG (1979)
PAUL McCARTNEY - McCARTNEY II (1980)
---
PAUL McCARTNEY - TUG OF WAR (1982)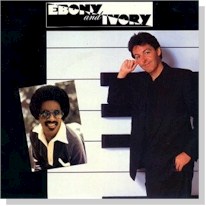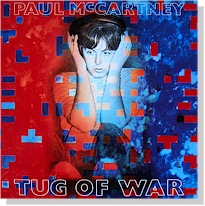 Se Band On The Run segnò il vertice della sua carriera negli anni Settanta, Tug Of War ribadì l'indiscussa supremazia dell'autore nel funesto decennio successivo: immuni a qualsiasi obiezione credibile, sono i due capolavori di Paul McCartney dopo i Beatles. Sconvolto dall'assassinio di John Lennon, Paul usciva da una pausa di riflessione seguita a un paio di album interessanti ma interlocutori (Back To The Egg; McCartney II) e all'immancabile "instant classic" segreto (Waterfalls). Di nuovo rapito dall'ispirazione, per il "ritorno" egli convoca il miglior batterista del mondo (Steve Gadd) e la voce più beatlesiana del rock (Eric Stewart), affidando la produzione all'uomo con cui aveva trascorso otto anni a Abbey Road (George Martin). Tug Of War è una solenne ouverture orchestrale che sublima il gioco del titolo (tiro alla fune) in un'allegoria della vita. Il doppio incontro con Stevie Wonder genera un celeberrimo inno interetnico (Ebony And Ivory) e un serrato duetto funk (What's That You're Doing?). Ringo Starr e Steve Gadd - insieme! - impostano l'agile pulsazione di Take It Away, brillante pop-song coronata da un famoso video con John Hurt nella parte del "some important impresario" (per Only Love Remains, Paul convocherà il capo dei Professionals, Gordon Jackson). Il doppio tema di Wanderlust celebra l'umano anelito a salpare approdando, sul finale, a una prodigiosa intersezione melodica. Il versatile basso di Stanley Clarke decora Somebody Who Cares, raffinata ballad quasi unplugged, e The Pound Is Sinking, amara profezia valutaria.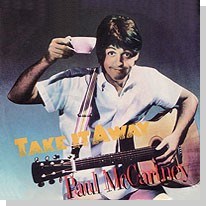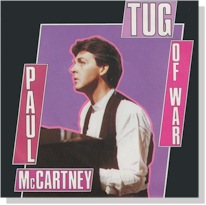 Commossa dedica in memoria di John Lennon, eseguita con chitarra acustica e quartetto d'archi, Here Today richiama, di proposito, l'arrangiamento di Yesterday … ciascuno giudichi e reagisca come vuole … a noi fa sempre lo stesso effetto … ci si accappona la pelle e piangiamo come vitelli. Ballroom Dancing rievoca i fasti del twist dall'osservatorio privilegiato di chi ne intonò i primi vagiti. Dress Me Up As A Robber è una singolare, geniale invenzione illuminata dalla propulsione ritmica di Dave Mattacks. Su Get It, Paul si diverte col proprio idolo giovanile Carl Perkins che, dal 1964 al giorno della morte (1998), ebbe qualcosa da raccontare ai nipoti: i Beatles avevano inciso due sue canzoni per Beatles For Sale (Honey Don't, Everybody's Trying To Be My Baby). All'epoca, i 33 secondi di Be What You See furono descritti da Enrico Sisti con parole a cui non aggiungiamo nulla: «… è un lampo, e brucia gli occhi …». - B.A.
---
PAUL McCARTNEY - PIPES OF PEACE (1983)
PAUL McCARTNEY - GIVE MY REGARDS TO BROAD STREET (1984)
PAUL McCARTNEY - PRESS TO PLAY (1986)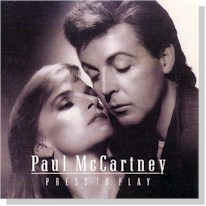 PAUL McCARTNEY - ALL THE BEST! (1987)
PAUL McCARTNEY - FLOWERS IN THE DIRT (1989)
PAUL McCARTNEY - OFF THE GROUND (1993)
PAUL McCARTNEY - FLAMING PIE (1997)
PAUL McCARTNEY - RUN DEVIL RUN (1999)
PAUL McCARTNEY - DRIVING RAIN (2001)
PAUL McCARTNEY - CHAOS AND CREATION IN THE BACKYARD (2005)
PAUL McCARTNEY - MEMORY ALMOST FULL (2007)
PAUL McCARTNEY - KISSES ON THE BOTTOM (2012)
FIREMAN - STRAWBERRIES OCEANS SHIPS FOREST (1993)
FIREMAN - RUSHES (1998)
FIREMAN - ELECTRIC ARGUMENTS (2008)