FOLK
---
OISÍN - OISÍN (1976)
PLANXTY - PLANXTY (1973)
PLANXTY - THE WELL BELOW THE VALLEY (1973)
PLANXTY - COLD BLOW AND THE RAINY NIGHT (1974)
JOHN PRINE - JOHN PRINE (1971)
JOHN PRINE - DIAMONDS IN THE ROUGH (1972)
JOHN PRINE - SWEET REVENGE (1973)
JOHN PRINE - BRUISED ORANGE (1978)
TIM HART / MADDY PRIOR - FOLK SONGS OF OLDE ENGLAND VOL. I (1968)
TIM HART / MADDY PRIOR - FOLK SONGS OF OLDE ENGLAND VOL. II (1969)
TIM HART / MADDY PRIOR - SUMMER SOLSTICE (1971)
---
MADDY PRIOR & JUNE TABOR - SILLY SISTERS (1978)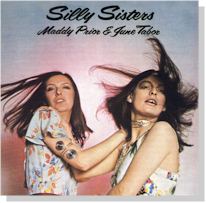 Disco storico, in cui la cantante più celebre del circuito folk (Prior) unisce la propria voce a quella della promettente e ancora poco conosciuta collega (Tabor). Il cast dei musicisti presenti è straordinario: da Andy Irvine a Martin Carthy e Nic Jones. - Antonio Vivaldi
Dopo la tragica scomparsa di Sandy Denny, Maddy Prior era diventata la nuova musa del folk inglese. I suoi Steeleye Span dialogavano alla pari con i Jethro Tull, spalancando le porte delle classifiche a un genere solitamente confinato nei pub o a casa di qualche appassionato. In cerca di nuovi stimoli, l'artista si alleò con la fascinosa June Tabor, allora diva emergente della Topic Records, per incidere a due voci un album acclamato come un capolavoro e ricco di pagine memorabili. Ricordiamo a caso le tre canzoni eseguite 'a cappella' (Burning Of Auchindon; My Husband's Got No Courage In Him; Four Loom Weaver); gli episodi più schiettamente popolani (Doffin' Mistress; Singing The Travels; The Seven Wonders; The Game Of Cards); le rispettive prove personali di Maddy, che si cimenta con la toccante Lass Of Loch Royal, e di June, che affronta con piglio bellicoso il classico di Martin Carthy, Geordie, accompagnata dall'autore. La suggestiva The Grey Funnel Line rievoca il passo solenne e l'atmosfera incantata di She Moved Through The Fair, il traditional irlandese interpretato da Art Garfunkel insieme ai Chieftains (Watermark). - B.A.
---
MADDY PRIOR - WOMAN IN THE WINGS (1978)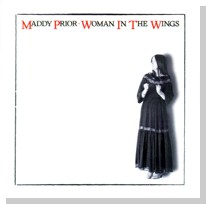 Figura carismatica degli Steeleye Span, Maddy Prior possedeva una voce dal timbro limpido e "antico", perfetta per interpretare il repertorio tradizionale prediletto dalla band. Approfittando dell'amicizia con Ian Anderson, per il proprio esordio in veste di titolare Maddy schierò in studio lo staff dei Jethro Tull al completo, arrangiatore (David Palmer) e ingegnere del suono (Robin Black) compresi. Improntate a un folk-pop leggero ma accattivante, le canzoni, oltre alla pregevole vena creativa dell'autrice, vantavano dunque l'invidiabile privilegio di essere incise a regola d'arte: Barriemore Barlow alla batteria, John Glascock al basso, Martin Barre che piazza un vivace intervento elettrico sulla stupenda Cold Flame, e lo stesso Ian, che oltre a produrre l'album ci fa dono del suo inestimabile flauto su Gutter Geese. L'enfatica orchestrazione di Woman In The Wings ricorda qualcosa della classica Too Old To Rock'n'Roll: Too Young To Die!, a cui in effetti la cantante prestò il proprio suadente soprano. Rollercoaster, Mother And Child, Deep Water e l'insolito reggae di Catseyes sono cimeli che i cultori degli anni Settanta non dovrebbero lasciarsi scappare. - B.A.
---
MADDY PRIOR - CHANGING WINDS (1978)
MADDY PRIOR - HOOKED ON WINNING (1982)
MADDY PRIOR AND THE ANSWERS - GOING FOR GLORY (1983)
RELATIVITY - RELATIVITY (1986)
RELATIVITY - GATHERING PACE (1987)
JOHN RENBOURN - THE LADY AND THE UNICORN (1970)
JOHN RENBOURN - THE HERMIT (1976)
JOHN RENBOURN - THE BLACK BALLOON (1979)
TONY RICE - TONY RICE SINGS GORDON LIGHTFOOT (1996)
ANDY ROBERTS - HOME GROWN (1971)
BRIDGET St. JOHN - ASK ME NO QUESTIONS (1969)
BRIDGET St. JOHN - SONGS FOR THE GENTLE MAN (1971)
COLIN SCOT - COLIN SCOT (1971)
SILLY WIZARD - CALEDONIA'S HARDY SONS (1978)
SILLY WIZARD - SO MANY PARTINGS (1979)
SILLY WIZARD - KISS THE TEARS AWAY (1983)
SILLY WIZARD - WILD & BEAUTIFUL (1981)
BERT SOMMER - THE ROAD TO TRAVEL (1969)
BERT SOMMER - INSIDE BERT SOMMER (1970)
BERT SOMMER - BERT SOMMER (1970)
BERT SOMMER - BERT SOMMER (1977)
SONGWAINERS - THE SONGWAINERS (1971)
STEELEYE SPAN - HARK! THE VILLAGE WAIT (1970)
STEELEYE SPAN - PLEASE TO SEE THE KING (1971)

STEELEYE SPAN - TEN MAN MOP OR MR. RESERVOIR BUTLER RIDES AGAIN (1972)

---
STEELEYE SPAN - BELOW THE SALT (1972)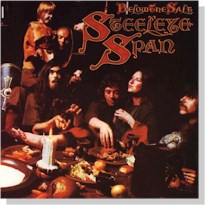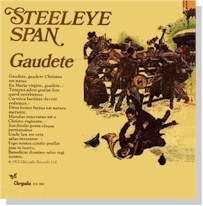 Lasciati i Fairport Convention al culmine dell'impeto creativo, appena dopo la pubblicazione di Liege & Lief, Ashley Hutchings fonda gli Steeleye Span e li guida fino al magnifico Ten Man Mop Or Mr. Reservoir Butler Rides Again, per poi andarsene di nuovo, alla spasmodica ricerca di una sintesi ideale tra folk e rock. Quando Martin Carthy propone di sostituire Hutchings con il fisarmonicista John Kirkpatrick, gli altri superstiti si oppongono, determinando il congedo dello stesso Carthy. La band viene allora rifondata con l'ingresso di Rick Kemp (basso) e Bob Johnson (chitarre) che, insieme a Peter Knight (mandolino, banjo, violino), Maddy Prior e Tim Hart (voci) formeranno il nucleo stabile per (quasi) tutti gli anni Settanta. Composto di soli traditional e intitolato a un'usanza medievale (la collocazione della servitù a tavola), Below The Salt è il primo di una serie di album che imporranno il suono del passato nelle classifiche europee. Gli splendidi cori 'a cappella' condotti dal soprano di Maddy esaltano le melodie di Rosebud In June, dolcissimo carme bucolico, e Gaudete, clamoroso singolo che lanciò nella hit-parade britannica (14°) un inno sacro cantato in latino. Il trascinante medley strumentale (Jigs: The Bride's Favourite; Tansey's Fancy) mette in bella evidenza la tecnica di Knight, che si divide tra corde, archi e plettri. Dal lugubre arrangiamento di King Henry emerge l'irrequieto fantasma di una nobildonna defunta. Grazie all'intesa maturata nei tre dischi incisi in coppia (Folk Songs Of Olde England Vol. I/II; Summer Solstice), Hart e Prior offrono stupende interpretazioni di storie tratte da antologie secolari: scene di vita agreste (Spotted Cow; Sheepcrook And Blackdog), amori d'altri tempi (Royal Forester; Saucy Sailor) e l'intramontabile leggenda popolare sull'origine della birra (John Barleycorn*). [P.S. - *Si confronti questa versione con l'omonima, celeberrima cover dei Traffic (John Barleycorn Must Die)] - B.A.
---
STEELEYE SPAN - PARCEL OF ROGUES (1973)
STEELEYE SPAN - NOW WE ARE SIX (1974)
STEELEYE SPAN - COMMONERS CROWN (1975)
---
STEELEYE SPAN - ALL AROUND MY HAT (1975)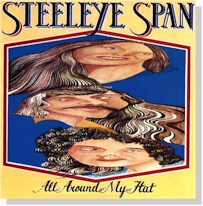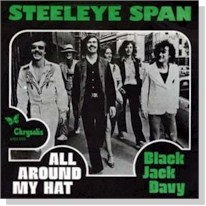 Insieme ai Fairport Convention, gli Steeleye Span hanno contribuito non poco alla diffusione del folk britannico (sia pure riveduto e corretto) nel mondo. Indubbiamente Kemp e soci continuano ad affondare le mani nella tradizione più pura, però gli arrangiamenti e l'uso dei vari strumenti sono ultra-moderni. Ricordiamo, in particolare, Hard Times Of Old England e l'iniziale, bellissima Black Jack Davy, basata su un tipico schema della musica popolare: ogni strofa cantata dalla voce solista (nell'occasione quella di Maddy Prior) è alternata all'inciso eseguito dal coro delle voci maschili. - Mauro Eusebi
Segnaliamo altre due gemme di questo disco: la stupenda esecuzione 'a cappella' di Cadwith Anthem e la stessa All Around My Hat: dominata da una melodia irresistibile, da un ritmo trascinante e da uno splendido coro, la title-track schizzò al N°5 della classifica dei singoli inglesi, risultato incredibile per un brano folk. - B.A.
---
STEELEYE SPAN - ROCKET COTTAGE (1976)
STEELEYE SPAN - STORM FORCE TEN (1977)
STEELEYE SPAN - LIVE AT LAST! (1978)
STEELEYE SPAN - SAILS OF SILVER (1980)
STEELEYE SPAN - TEMPTED AND TRIED (1989)
STEELEYE SPAN - A RARE COLLECTION 1972-1996 (1972/1996)
JONATHAN SWIFT - INTROVERT (1971)
JONATHAN SWIFT - SONGS (1972)
---
JUNE TABOR - AIRS AND GRACES (1976)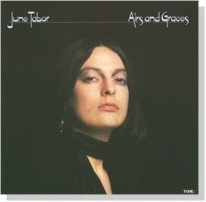 Un debutto che lascia il segno. A renderla immediatamente un'icona del circuito folk non è un brano tradizionale, bensì i sei minuti per sola voce di The Band Played Waltzing Matilda, tragica e popolarissima canzone sugli orrori della Prima Guerra Mondiale, scritta dallo scozzese trasferito in Australia, Eric Bogle. - Antonio Vivaldi
Una soluzione originale per accostarsi alla musica folk. La voce algida e austera di June Tabor è in grado di spazzare via gli ultimi dubbi relativi a un genere ontologicamente legato al passato. Alcuni episodi sono illuminati dalla brillante chitarra di Nic Jones: arrangiamento e interpretazione si fondono mirabilmente su While Gamekeepers Lie Sleeping e Bonny May. Altrove la cantante propone la sua specialità, interpretando 'a cappella' un'accorta selezione di brani tradizionali o d'autore (Plains Of Waterloo; The Band Played Waltzing Matilda; Reynardine; Waly Waly; Queen Among The Heather). La stessa June illustra il materiale scelto con note sintetiche ma esaurienti. - B.A.
---
JUNE TABOR - ASHES AND DIAMONDS (1977)
JUNE TABOR WITH MARTIN SIMPSON - A CUT ABOVE (1980)

JUNE TABOR - ABYSSINIANS (1983)
JUNE TABOR - AQABA (1988)
JUNE TABOR - SOME OTHER TIME (1989)
CYRIL TAWNEY - THE OUTLANDISH KNIGHT (1969)
CYRIL TAWNEY - A MAYFLOWER GARLAND (1970)
CYRIL TAWNEY - IN PORT (1972)
CYRIL TAWNEY - DOWN AMONG THE BARLEY STRAW (1976)
ALLAN TAYLOR - SOMETIMES (1971)
ALLAN TAYLOR - THE LADY (1971)
ALLAN TAYLOR - THE AMERICAN ALBUM (1973)
ALLAN TAYLOR - CAJUN MOON (1976)
ALLAN TAYLOR - THE TRAVELLER (1978)
---
ALLAN TAYLOR - ROLL ON THE DAY (1980)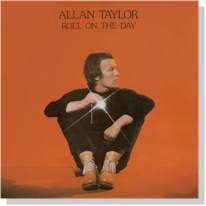 Gli innumerevoli siti specifici e album dissepolti messi a disposizione da Internet evidenziano che, per ascoltare tutti i tesori nascosti relativi ai vari generi, non basta una vita. Il solo movimento folk, ad esempio, ha prodotto una tale quantità di opere da imporre ai cultori la dolorosa scelta della "cernita". Nella gremita categoria dei cantautori voce/chitarra, da oltre trent'anni Allan Taylor occupa una personale nicchia di credibilità e consenso. Roll On The Day è il suo manifesto programmatico: maturo, omogeneo, conciso, un gioiello di arte popolare inglese, indispensabile in qualsiasi collezione seria. I sobri arrangiamenti ruotano attorno al menestrello e al suo strumento, alternandovi il supporto di vari specialisti, tra cui Mick Donovan (cornamuse), Jamie O'Dwyer (violino) e il "divo" John Kirkpatrick (fisarmonica). La cifra lirico-musicale dell'artista si esprime attraverso intense ballate acustiche (Looking For You, Hard To Tell, Standing At The Door, For An Old Friend) e struggenti figure ai margini (Ballad For The Unknown Soldier, The Madman, Roll On The Day). - B.A.
Tra i cantautori britannici coevi (Ralph McTell, Nick Drake, John Martyn, Roy Harper etc.), Allan Taylor è il più vicino alle radici. Egli recupera brani di matrice popolare, adatta alla chitarra antiche accordature per liuto ed è quanto di più prossimo alla figura del menestrello il circuito dei club folk abbia prodotto. Affini alla tradizione trobadorica anche i temi: amicizia, lontananza, amori difficili. Roll On The Day accentua la componente malinconica del suo stile, che si vena di pessimismo esistenzialista (Time). Splendidi i due ritratti che chiudono ciascun lato del Long Playing: il malato di mente di Madman e il minatore affetto da silicosi di Roll On The Day. - Antonio Vivaldi
---
ALLAN TAYLOR - CIRCLE ROUND AGAIN (1983)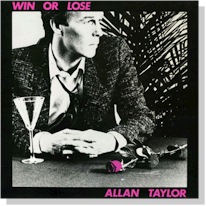 ALLAN TAYLOR - WIN OR LOSE (1985)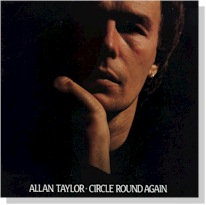 Talento puro delle corde (vocali, acustiche), in grado di mantenersi più che dignitosamente per mezzo secolo esercitando la precaria professione di cantautore folk britannico, Allan Taylor chiude la stagione d'oro della sua carriera con due dischi* indispensabili. Impostati rispettivamente su altrettante idee progettuali - la rilettura di brani autografi da album precedenti, una vaga ispirazione al modello degli chansonnier francesi - Circle Round Again e Win Or Lose rappresentano un categorico, intransigente ripudio di tutti i (dis)valori enunciati dallo stronzissimo gergo degli anni Ottanta ("un attimino", "come dire", "piuttosto che" etc.). Misty On The Water e The Morning Lies Heavy illustrano le doti liriche di Allan con un'evocativa ode nautica all'immensità del mare e lo struggente addio di un soldato a suo padre; nelle scarne armonie di Simple Song, My Father's Room, The Proud And Noble Savage, Mistress Music risuona l'aggraziato controcanto di Irene Hume, mentre su Back Again e The Story affiorano le influenze assimilate durante il soggiorno americano (Cajun Moon; The American Album); l'intenso ritratto femminile di Lavinia Forsythe-Jones rappresenta l'altro momento cruciale della scaletta. La lieve svolta stilistica di Win Or Lose deriva da un disinibito ricorso al pianoforte che, configurando un seducente ibrido tra indole inglese, echi bohémien, suggestioni californiane, dona agli arrangiamenti una preziosa originalità espressiva … concepite e incise su questa falsariga, vanno in scena le memorie di un artista che ha girato il mondo: il dolore di un distacco su Choose Your Time, i folli ricordi giovanili di Crazy Amsterdam, l'omaggio alla diva idolatrata di Piaf, i sogni infranti di Win Or Lose e There Was A Time, la sublime simbiosi sentimentale di The Rose And The Briar. La formula più tipica di Taylor torna sugli stupendi arrangiamenti per chitarra: le cantilene corali di Angelina's Cantina e Now You Know, le nostalgie atlantiche di Golden Island e Syracuse And Albany, il commovente anelito di pace di The Dove. [P.S. - *Entrambi mai pubblicati su CD … e la chiamano "civiltà" …] - B.A.
---
JOHN TENNENT / DAVID MORRISON - TENNENT / MORRISON (1972)
TIR NA NOG - A TEAR AND A SMILE (1972)
TIR NA NOG - STRONG IN THE SUN (1973)
RICHARD THOMPSON - STRICT TEMPO! (1981)

---
RICHARD THOMPSON - HAND OF KINDNESS (1983)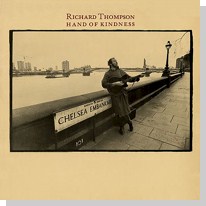 Hand Of Kindness sconta un grave handicap: l'apprezzamento unanime della "stampa specializzata". In altre parole, l'album piacque ai "critici". Chi conosce la categoria degli "addetti ai lavori" sa che, al fine di individuare e promuovere la buona musica, un loro giudizio positivo equivale al bacio della morte. Richard Thompson riuscì a scongiurare questo effetto iettatorio grazie a due fattori provvidenziali: tempo galantuomo e un po' di culo. Dopo l'eccellente saggio strumentale di Strict Tempo!, il chitarrista torna a proporsi come cantautore di lusso, confermando un talento che aveva consegnato al repertorio dei Fairport Convention numerosi classici (Meet On The Ledge, Genesis Hall, Farewell, Farewell, Crazy Man Michael, Now Be Thankful etc.). La vena melodica di Richard è intatta e ancora feconda di idee originali. A dispetto dei mesti accenni lirici alla separazione dalla moglie (Linda Peters), l'organico comprendente due sax (Pete Thomas; Pete Zorn) e una fisarmonica (John Kirkpatrick) conferisce un'allegra atmosfera paesana agli arrangiamenti, mentre la superba sezione ritmica [Dave Pegg (basso); Dave Mattacks (batteria)] non teme confronti. Dotato di una voce leggermente gutturale ma espressiva e adatta alla promiscuità stilistica, Thompson scatena la sua illustre chitarra, elegante anche in un informale contesto folk-rock. Le canzoni sono tutte belle e si equivalgono: se How I Wanted To è una struggente ballata acustica e Devonside una pagina vicina ad atmosfere più tradizionali, la malinconia di fondo si dirada sulla fragorosa esuberanza di A Poisoned Heart And A Twisted Memory, Where The Wind Don't Whine, Tear Stained Letter e The Wrong Heartbeat. La band si esalta sulla dinoccolata andatura di Hand Of Kindness, per poi lasciarsi trascinare dal ronzino che corre come un purosangue su Both Ends Burning e dal vorticoso saltarello per "due piedi sinistri" di Two Left Feet. - B.A.
---
GORDON TYRRALL - FAREWELL TO FOGGY HILLS (1978)
DEENA WEBSTER - TUESDAY'S CHILD (1968)
JESSE WINCHESTER - JESSE WINCHESTER (1970)
JESSE WINCHESTER - THIRD DOWN, 110 TO GO (1972)
JESSE WINCHESTER - LEARN TO LOVE IT (1974)
JESSE WINCHESTER - LET THE ROUGH SIDE DRAG (1976)
JESSE WINCHESTER - NOTHING BUT A BREEZE (1977)
JESSE WINCHESTER - A TOUCH ON THE RAINY SIDE (1978)
JESSE WINCHESTER - TALK MEMPHIS (1981)
MARTIN WYNDHAM-READ - NED KELLY AND THAT BAND (1970)
MARTIN WYNDHAM-READ - MARTIN WYNDHAM-READ (1971)
MARTIN WYNDHAM-READ - HARRY THE HAWKER IS DEAD (1973)
MARTIN WYNDHAM-READ with DAVE AND TONY ARTHUR - ANDY'S GONE (1979)
MARTIN WYNDHAM-READ - EMU PLAINS (1981)
MAC WISEMAN - MAC WISEMAN SINGS GORDON LIGHTFOOT (1975)
WOODEN O - A HANDFUL OF PLEASANT DELITES (1969)
GAY & TERRY WOODS - BACKWOODS (1975)
GAY & TERRY WOODS - RENOWNED (1976)
GAY & TERRY WOODS - THE TIME IS RIGHT (1976)
GAY & TERRY WOODS - TENDER HOOKS (1978)
YETTIES - FIFTY STONE OF LOVELINESS (1969)
YETTIES - KEEP A-RUNNIN', IT'S THE YETTIES! 1972)
YETTIES - DORSET IS BEAUTIFUL (1972)
YETTIES - THE YETTIES OF YETMINSTER (1975)