CINEMA
---
THE TAKING OF PELHAM ONE TWO THREE (1974)
IL COLPO DELLA METROPOLITANA
Regia: Joseph Sargent
Musica: David Shire
THE TAMARIND SEED (1974)
IL SEME DEL TAMARINDO
Regia: Blake Edwards
Musica: John Barry
TARGETS (1968)
BERSAGLI
Regia: Peter Bogdanovich
Musica: Unknown
TAXI DRIVER (1975)
Regia: Martin Scorsese
Musica: Bernard Herrmann
THE TENDER TRAP (1973)
IL FIDANZATO DI TUTTE
Regia: Charles Walters
Musica: Jeff Alexander / Jimmy Van Heusen & Sammy Cahn
LA TERRAZZA (1980)
Regia: Ettore Scola
Musica: Armando Trovajoli / Antonio Vivaldi
THAT'S THE WAY OF THE WORLD (1975)
Regia: Sig Shore
Musica: Earth, Wind & Fire
THEY LIVE (1988)
ESSI VIVONO
Regia: John Carpenter
Musica: John Carpenter / Alan Howarth
THE THING (1982)
LA COSA
Regia: John Carpenter
Musica: Ennio Morricone
THE THOMAS CROWN AFFAIR (1968)
IL CASO THOMAS CROWN
Regia: Norman Jewison
Musica: Michel Legrand / Alan & Marilyn Bergman
THREE DAYS OF THE CONDOR (1975)
I TRE GIORNI DEL CONDOR
Regia: Sydney Pollack
Musica: Dave Grusin
THREE WOMEN (1977)
TRE DONNE
Regia: Robert Altman
Musica: Gerald Busby
THX 1138 (1971)
L'UOMO CHE FUGGÌ DAL FUTURO
Regia: George Lucas
Musica: Lalo Schifrin / Johann Sebastian Bach etc.
TODO MODO (1976)
Regia: Elio Petri
Musica: Charles Mingus
TOMMY (1969/1975)
Regia: Ken Russell
Musica: The Who
TONY ROME (1967)
L'INVESTIGATORE
Regia: Gordon Douglas
Musica: Billy May
TOO LATE THE HERO (1969)
NON È PIÙ TEMPO D'EROI
Regia: Robert Aldrich
Musica: Gerald Fried
TOTAL RECALL (1990)
ATTO DI FORZA
Regia: Paul Verhoeven
Musica: Jerry Goldsmith
TOUCH OF EVIL (1958)
L'INFERNALE QUINLAN
Regia: Orson Welles
Musica: Henry Mancini
LES TRICHEURS (1958)
PECCATORI IN BLUE JEANS
Regia: Marcel Carné
Musica: Stan Getz, Coleman Hawkins etc.
TROUBLE MAN (1972)
DETECTIVE G.
Regia: Ivan Dixon
Musica: Marvin Gaye
TRUE ROMANCE (1993)
UNA VITA AL MASSIMO
Regia: Tony Scott
Musica: Hans Zimmer
---
200 MOTELS (1971)
Regia: Tony Palmer / Frank Zappa
Musica: Frank Zappa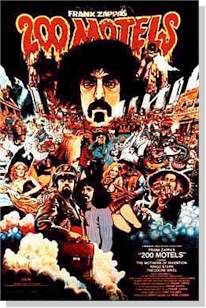 «The executives at United Artists must have gulped too many Martinis when they allotted Frank "No Commercial Potential" Zappa $630.000 to make a movie and soundtrack in 1970 […]» Come vedete, anche i redattori di Down Beat sbagliano e quella di Frank-John Hadley è solo l'ennesima, volgare calunnia. In realtà, il progetto di 200 Motels venne finanziato perché allora si osava di più e persino i manager - devoti al comandamento "ars gratia artis" (art for art's sake) - erano dotati di immaginazione, lungimiranza e prodigalità. "Se un prodotto non rende, sono soldi sprecati", direbbe lo yuppie saputello di turno. A costui ricordiamo che Zappa, ormai indebolito dal cancro ma fermamente intenzionato a non lasciare gli eredi in balia dell'industria discografica, istruì la moglie Gail affinché cedesse i diritti di tutti i propri album al miglior offerente. La Rykodisc si aggiudicò l'inestimabile catalogo. Il prezzo di vendita non fu rivelato ma, per far fronte alla spesa, l'etichetta di Salem dovette operare una ricapitalizzazione di 44.000.000 di dollari del 1994 (Greg Russo racconta la vicenda nel suo Cosmik Debris: The Collected History And Improvisations Of Frank Zappa). Morale: prima o poi anche l'arte trova un mercato, purché ci sia qualcuno in grado di apprezzarne il valore e, magari, di intuirlo in anticipo. Anche dopo l'ennesima visione, 200 Motels investe lo spettatore con immagini anarchiche, surreali, confuse, ma proprio per questo incisive, provocatorie, tipicamente zappiane. Stesa in gran parte durante i tour mondiali, la sceneggiatura - si fa per dire - documenta la vita "on the road" osservata attraverso lo sguardo eccentrico dell'autore. Individuati i Pinewood Studios di Londra come location, Zappa spese subito parte del budget per sottoporre le proprie partiture alla Royal Philharmonic Orchestra, condotta fisicamente sul luogo delle riprese. Su un palcoscenico trasformato in campo di concentramento si avvicendano senza sosta i personaggi più bizzarri: Theodore Bikel è il narratore di turno, ruolo a cui Zappa attribuì sempre una grande importanza (per i concerti immortalati su Zappa In New York scritturò Don Pardo, annunciatore del Saturday Night Live; per Joe's Garage prestò egli stesso la propria voce, filtrata da un megafono, all'occhiuto "Central Scrutinizer"); nei panni di "Larry the Dwarf" Ringo Starr impersona l'alter-ego di Frank; Keith Moon recita travestito da suora; il pellerossa Jimmy Carl Black interpreta un redneck razzista e reazionario (Lonesome Cowboy Burt); Mark Volman e Howard Kaylan (Flo & Eddie) impazzano fra gag squinternate e riottosi interventi vocali. Insomma, un delirio, ma ci si torce dal ridere. Con un monologo affidato al batterista dei Beatles, Zappa riflette sull'emarginazione vissuta dal musicista classico-contemporaneo nella società odierna, tema che verrà ulteriormente approfondito con l'autobiografia (The Real Frank Zappa Book). I passaggi strumentali costituiscono la parte più sostanziosa, combinando con l'abituale virtuosismo rock e avanguardia (Semi-Fraudolent/Direct-From-Hollywood Overture; Dance Of The Just Plain Folks; Touring Can Make You Crazy; Janet's Big Dance Number; Lucy's Seduction Of A Bored Violinist; Does This Kind Of Life Look Interesting To You? etc.). Nel suo libro The Complete Guide To The Music Of Frank Zappa, il poeta inglese Ben Watson ha recensito con particolare sagacia alcuni brani: «[…] Magic Fingers showed that Zappa had been listening to Black Sabbath. […] The descending riff and his own live-on-screen guitar solo detonated new depths of heaviness. […] This Town Is A Sealed Tuna Sandwich is a Brechtian portrayal of the sordidness and tedium of the modern metropolis. […]». Finalizzate a commentare le ingegnose animazioni di Cal Schenkel incluse nella pellicola, I'm Stealing The Towels e Dental Hygiene Dilemma sbeffeggiano la stucchevole retorica hippy dell'epoca, anticipando lo stile "cartoon" del capolavoro The Adventures Of Greggery Peccary (Läther; Studio Tan). L'inequivocabile soggetto di Penis Dimension va ad aggiungersi alla mitica Tengo Na Minchia Tanta (Uncle Meat). Con la sua atmosfera da colonna sonora per B-movie, Centerville accompagna una scena montata con effetti speciali veramente ridicoli. Would You Like A Snack? è una melodia jazz esposta col fischio e poi rilanciata dal canto pseudo-operistico del coro. Oltre al film originale, esiste un documentario relativo alla genesi dell'opera (The True Story Of '200 Motels'), fondamentale per saperne di più. [P.S. - 1) Ironia della sorte: l'unico titolo di cui Zappa non riuscì mai a recuperare il copyright era proprio 200 Motels. La MGM, proprietaria del marchio United Artists, si decise a concedere la licenza per la ristampa solo nel 1997, quando verificò gli "utili" realizzati dalla Rykodisc. No comment. 2) Il doppio CD contiene un magnifico booklet, una mini-riproduzione della locandina, quattro spot radiofonici e il trailer promozionale di 3 minuti riversato su file 'mpg'.] - B.A.
---
2001: A SPACE ODYSSEY (1969)
2001: ODISSEA NELLO SPAZIO
Regia: Stanley Kubrick
Musica: Richard Strauss, Johann Strauss jr., György Ligeti etc.
ULTIMO TANGO A PARIGI (1972)
LAST TANGO IN PARIS
Regia: Bernardo Bertolucci
Musica: Gato Barbieri
UNCLE MEAT (1969)
Regia: Frank Zappa
Musica: Frank Zappa
UNDER FIRE (1983)
SOTTO TIRO
Regia: Roger Spottiswoode
Musica: Jerry Goldsmith / Pat Metheny
VAMPIRES (1998)
Regia: John Carpenter
Musica: John Carpenter
VELVET GOLDMINE (1998)
Regia: Todd Haynes
Musica: Brian Eno, T. Rex, Roxy Music, Steve Harley, Lou Reed, Carter Burwell etc.
VERTIGO (1958)
LA DONNA CHE VISSE DUE VOLTE
Regia: Alfred Hitchcock
Musica: Bernard Herrmann
VIDEODROME (1982)
Regia: David Cronenberg
Musica: Howard Shore
THE VILLAGE OF THE DAMNED (1960)
IL VILLAGGIO DEI DANNATI
Regia: Wolf Rilla
Musica: Ron Goodwin
VILLAGE OF THE DAMNED (1995)
VILLAGGIO DEI DANNATI
Regia: John Carpenter
Musica: John Carpenter / Dave Davies
WALK THE LINE (2005)
QUANDO L'AMORE BRUCIA L'ANIMA
Regia: James Mangold
Musica: Johnny Cash
THE WARD (2010)
IL REPARTO
Regia: John Carpenter
Musica: Mark Kilian
THE WAY WE WERE (1973)
COME ERAVAMO
Regia: Sydney Pollack
Musica: Marvin Hamlisch / Alan & Marilyn Bergman
A WEDDING (1978)
UN MATRIMONIO
Regia: Robert Altman
Musica: John Hotchkis / Leonard Cohen / Tom Walls
WITNESS FOR THE PROSECUTION (1957)
TESTIMONE D'ACCUSA
Regia: Billy Wilder
Musica: Matty Malneck
WHORE (1991)
WHORE - PUTTANA
Regia: Ken Russell
Musica: Michael Gibbs
THE WIZARD OF OZ (1939)
IL MAGO DI OZ
Regia: Victor Fleming
Musica: Harold Arlen, E.Y. "Yip" Harburg, George Bassman, George Stoll, Herbert Stothart
THE WOMAN IN THE WINDOW (1944)
LA DONNA DEL RITRATTO
Regia: Fritz Lang
Musica: Arthur Lange
WOMEN IN LOVE (1969)
DONNE IN AMORE
Regia: Ken Russell
Musica: Georges Delerue
WONDERWALL (WONDERWALL MUSIC) (1968)
Regia: Joe Massot
Musica: George Harrison
THE YAKUZA (1975)
YAKUZA
Regia: Sydney Pollack
Musica: Dave Grusin
YELLOW SUBMARINE (1968)
Regia: George Dunning
Musica: The Beatles
YOU GOTTA WALK IT LIKE YOU TALK IT (OR YOU'LL LOSE THAT BEAT) (1970)
Regia: Peter Locke
Musica: Walter Becker & Donald Fagen
YOUNG AT HEART (1955)
TU SEI IL MIO DESTINO
Regia: Gordon Douglas
Musica: Ray Heindorf / André Previn
YOU ONLY LIVE TWICE (1967)
AGENTE 007 - SI VIVE SOLO DUE VOLTE
Regia: Lewis Gilbert
Musica: John Barry / Leslie Bricusse
ZARDOZ (1974)
Regia: John Boorman
Musica: David Munrow
ZELIG (1983)
Regia: Woody Allen
Musica: Dick Hyman