CINEMA
---
KILL BILL VOL. 1/2 (2003/2004)
KILL BILL VOL. 1/2
Regia: Quentin Tarantino
Musica: Luis Enriquez Bacalov, Quincy Jones, Ennio Morricone, Riz Ortolani,
Vince Tempera, Sonny Bono, Bernard Herrmann etc.
THE KILLERS (1964)
CONTRATTO PER UCCIDERE
Regia: Don Siegel
Musica: John Williams / Henry Mancini / Don Raye / Nancy Wilson
THE KING OF COMEDY (1983)
RE PER UNA NOTTE
Regia: Martin Scorsese
Musica: Robbie Robertson
THE KING OF MARVIN GARDENS (1972)
IL RE DEI GIARDINI DI MARVIN
Regia: Bob Rafelson
Musica: Unknown
KINGS GO FORTH (1958)
CENERE SOTTO IL SOLE / ATTACCO IN NORMANDIA
Regia: Delmer Daves
Musica: Elmer Bernstein
KISS ME DEADLY (1955)
UN BACIO E UNA PISTOLA
Regia: Robert Aldrich
Musica: Frank DeVol / Nat King Cole
KISS ME, STUPID! (1964)
BACIAMI, STUPIDO
Regia: Billy Wilder
Musica: George & Ira Gershwin / André Previn
L.A. CONFIDENTIAL (1997)
Regia: Curtis Hanson
Musica: Jerry Goldsmith / Harold Arlen / George Gershwin etc.
THE LAST UNICORN (1982)
Regia: Arthur Rankin jr., Jules Bass
Musica: Jimmy Webb
THE LAST WALTZ (1976/1978)
L'ULTIMO VALZER
Regia: Martin Scorsese
Musica: The Band, Bob Dylan, Ringo Starr, Van Morrison, Joni Mitchell, Neil Young, Eric Clapton, Neil Diamond etc.
LAWMAN (1970)
IO SONO LA LEGGE
Regia: Michael Winner
Musica: Jerry Fielding
LENNY (1974)
Regia: Bob Fosse
Musica: Ralph Burns, Miles Davis etc.
LES LIAISONS DANGEREUSES (1959)
RELAZIONI PERICOLOSE
Regia: Roger Vadim
Musica: Jacques Marray / Art Blakey
---
LET IT BE (1970)
LET IT BE - UN GIORNO CON I BEATLES
Regia: Michael Lindsay-Hogg
Musica: The Beatles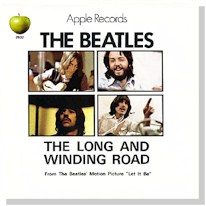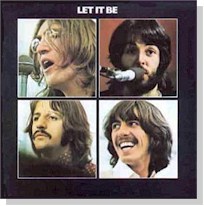 As a 16mm "cinéma vérité" of four rock musicians in a studio jamming a bit, trying to get their music together, clowning and rapping a little, and finally doing a brief concert, Let It Be is a relatively innocuous, unimaginative piece of film. But the musicians are the Beatles. - Variety
Il titolo del progetto avrebbe dovuto essere Get Back, in riferimento a un agognato ritorno alla spontaneità delle "origini" che Paul vedeva come possibile antidoto alla crisi, ormai irrimediabile. Si spiega così il recupero di un vecchia canzone come One After 909 - provata in studio il 5 Marzo 1963, ma rimasta inedita - e la scelta di registrare gran parte del materiale dal vivo. Le appassionate performance di I've Got A Feeling e Dig A Pony, le "12 battute" rivisitate da George per For You Blue, l'eccezionale duetto tra il piano elettrico di Billy Preston e la Epiphone di John su Get Back, le voci armonizzate sulla ballata country Two Of Us, con un testo che fa riferimento al sodalizio - logoro ma profondo - tra Lennon e McCartney (… you and I have memories longer than the road that stretches out ahead …): tutto concorreva a creare l'auspicato effetto "verità". Con un intervento allora considerato sacrilego, Phil Spector rifinì gli scarni arrangiamenti con ampollose sovraincisioni orchestrali. A giudicare dagli esiti artistici - I Me Mine (titolo che Harrison avrebbe ripreso per la propria sofferta autobiografia), Across The Universe, Let It Be, The Long And Winding Road - le critiche rivolte alla produzione di Spector appaiono del tutto immotivate. John e George la pensavano allo stesso modo, se è vero che reclutarono ancora il maestro americano rispettivamente per Imagine e All Things Must Pass. Esclusa dall'album, ma presente nelle riprese del regista Michael Lindsay-Hogg, Don't Let Me Down fu eseguita sia in sala che durante lo storico "concerto" sul tetto della Apple Corps: una ballad sublime in cui le parole d'amore dedicate a Yoko Ono hanno la forza di un sentimento universale.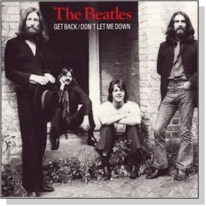 Anche Randy Crawford (Everything Must Change) e Phoebe Snow (It Looks Like Snow) vollero interpretare il capolavoro 'soul' di John. Domanda: chi ha bloccato la pubblicazione del film fino ai giorni nostri, mai distribuito né in VHS né in DVD? In assenza di altri indizi, i sospetti sembrano convergere su qualche yuppie strafatto di cocaina che lavora per la EMI. Noi, pazientemente, continuiamo ad aspettare. [P.S. - 1) Sulla title-track l'assolo di George è in più in evidenza rispetto al missaggio usato per il 45 giri, successivamente incluso nel CD Past Masters - Volume Two. 2) La versione di Get Back pubblicata sul singolo, anch'essa contenuta in Past Masters - Volume Two, ha una coda che nel LP venne rimossa. 3) Per ricostruire tutti i dettagli della vicenda sono fondamentali i libri The Complete Beatles Recording Sessions e The Complete Beatles Chronicle, entrambi di Mark Lewisohn. 4) Almeno tre cover da ricordare: The Long And Winding Road di Cher (Half-Breed), One After 909 di Helen Reddy (We'll Sing In The Sunshine), Across The Universe di David Bowie (Young Americans). 5) Come era giusto che accadesse, Let It Be vinse l'Oscar nel 1970, per la categoria 'Original Song Score'. 6) Nel 2003 è stata pubblicata una versione del disco priva dei ritocchi di Spector (Let It Be … Naked).] - B.A.
---
LIFE IS SWEET (1990)
DOLCE È LA VITA
Regia: Mike Leigh
Musica: Rachel Portman
LIVE AND LET DIE (1973)
AGENTE 007 - VIVI E LASCIA MORIRE
Regia: Guy Hamilton
Musica: Paul McCartney / George Martin
LONG WAY ROUND (2004)
Regia: Ewan McGregor, Charley Boorman, Claudio Von Planta, Russ Malkin, David Alexanian
Musica: Sterephonics
LONG WAY DOWN (2008)
Regia: Ewan McGregor, Charley Boorman, Claudio Von Planta, Russ Malkin, David Alexanian
Musica: Sterephonics
LOST HORIZON (1973)
ORIZZONTE PERDUTO
Regia: Charles Jarrott
Musica: Burt Bacharach, Hal David
MAD MAX (1979)
INTERCEPTOR
Regia: George Miller
Musica: Brian May
MAGICAL MYSTERY TOUR (1968)
Regia: The Beatles
Musica: The Beatles
THE MAGIC CHRISTIAN (1969)
MAGIC CHRISTIAN
Regia: Joseph McGrath
Musica: Ken Thorne
THE MAGNIFICENT SEVEN (1960)
I MAGNIFICI SETTE
Regia: John Sturges
Musica: Elmer Bernstein
MAGNUM FORCE (1973)
UNA 44 MAGNUM PER L'ISPETTORE CALLA(G)HAN
Regia: Ted Post
Musica: Lalo Schifrin
MAHOGANY (1975)
Regia: Berry Gordy / Tony Richardson
Musica: Michael Masser
LA MALA ORDINA (1972)
THE ITALIAN CONNECTION
Regia: Fernando Di Leo
Musica: Armando Trovajoli
MALEDETTI VI AMERÒ (1980)
TO LOVE THE DAMNED
Regia: Marco Tullio Giordana
Musica: Franco Bormi
THE MALTESE FALCON (1941)
IL MISTERO DEL FALCO
Regia: John Huston
Musica: Adolph Deutsch
MAN AND BOY (1972)
Regia: E.W. Swackhamer
Musica: J.J. Johnson / Quincy Jones / Bill Withers
THE MANCHURIAN CANDIDATE (1962)
VA' E UCCIDI
Regia: John Frankenheimer
Musica: David Amram
---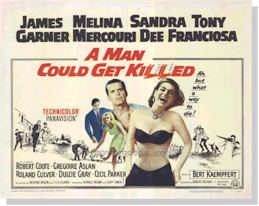 A MAN COULD GET KILLED (WELCOME, MR. BEDDOES) (1966)
Regia: Ronald Neame / Cliff Owen
Musica: Bert Kaempfert
Ordinaria spy-story anni '60, con immancabile retrogusto ironico, ambientazione internazionale, fauna variopinta e divi popolari all'epoca. Tuttavia, il film è passato alla storia per la musica composta da Bert Kaempfert che, integrata dalle parole di Eddie Snyder e Charles Singleton, generò nientemeno che Strangers In The Night, elemento fondante del cromosoma umano. - B.A.
---
THE MAN WITH THE GOLDEN ARM (1955)
L'UOMO DAL BRACCIO D'ORO
Regia: Otto Preminger
Musica: Elmer Bernstein
THE MAN WHO FELL TO EARTH (1976)
L'UOMO CHE CADDE SULLA TERRA
Regia: Nicolas Roeg
Musica: John Phillips
THE MAN WHO HAUNTED HIMSELF (1970)
L'UOMO CHE UCCISE SE STESSO
Regia: Basil Dearden
Musica: Michael J. Lewis
MARATHON MAN (1976)
IL MARATONETA
Regia: John Schlesinger
Musica: Michael Small
MARNIE (1964)
Regia: Alfred Hitchcock
Musica: Bernard Herrmann
MARRIAGE ON THE ROCKS (1965)
PATTO A TRE
Regia: Jack Donohue
Musica: Nelson Riddle
M*A*S*H (1970)
M.A.S.H.
Regia: Robert Altman
Musica: Johnny Mandel / Mike Altman
MATANGO (ATTACK OF THE MUSHROOM PEOPLE / FUNGUS OF TERROR) (1963)
MATANGO IL MOSTRO
Regia: Ishirô Honda
Musica: Sadao Bekku
McVICAR (1980)
Regia: Tom Clegg
Musica: Roger Daltrey
MELINDA (1972)
Regia: Hugh A. Robertson
Musica: Jerry Butler / Jerry Peters
MEMOIRS OF AN INVISIBLE MAN (1992)
AVVENTURE DI UN UOMO INVISIBILE
Regia: John Carpenter
Musica: Shirley Walker
MERRY CHRISTMAS, MR. LAWRENCE (1983)
FURYO
Regia: Nagisa Oshima
Musica: Ryuichi Sakamoto
LA MESSA È FINITA (1985)
Regia: Nanni Moretti
Musica: Nicola Piovani
MICKI & MAUDE (1984)
MICKI E MAUDE
Regia: Blake Edwards
Musica: Lee Holdridge, Stephen Bishop
MIDNIGHT COWBOY (1969)
UN UOMO DA MARCIAPIEDE
Regia: John Schlesinger
Musica: Fred Neil, Harry Nilsson, Warren Zevon etc.
---
MILANO CALIBRO 9 (1972)
Regia: Fernando Di Leo
Musica: Osanna / Luis Enriquez Bacalov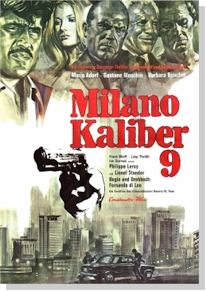 Precursore nobile di un genere bistrattato dagli amanti del "dibattito" e del cinema jugoslavo, Milano Calibro 9 si avvale di un'eccellente colonna sonora realizzata in collaborazione tra la band partenopea e Luis Enriquez Bacalov, appena reduce dal Concerto Grosso Per I New Trolls. L'anima underground degli Osanna si tinge di colori sinfonici sul Preludio, drammatico tema orchestrale squarciato da una fuga 'progressive' che combina Jethro Tull e King Crimson. Il flauto di Elio D'Anna, le chitarre di Danilo Rustici e la batteria di Massimo Guarino scuotono gli arrangiamenti del compositore argentino - Variazione I, III, VI, VII - per sottolineare una sceneggiatura agile, tesa, poco incline alla smancerie, influenzata dal clima sociale di quegli anni, sorretta dalla superba recitazione di Gastone Moschin e Mario Adorf e dalla presenza straordinaria di Lionel Stander, uno dei grandi caratteristi americani (Martin Balsam, Lee J. Cobb, Richard Conte, Henry Silva, John Saxon, James Whitmore etc.) che a fine carriera troveranno proprio in Italia allettanti, dignitose occasioni di lavoro. Se Milano Calibro 9 resta uno degli esempi migliori del filone "poliziottesco", l'album degli Osanna completa una splendida trilogia discografica, insieme a L'Uomo e a Palepoli. - B.A.
---
MILANO ODIA: LA POLIZIA NON PUÒ SPARARE (1974)
Regia: Umberto Lenzi
Musica: Ennio Morricone
THE MISFITS (1961)
GLI SPOSTATI
Regia: John Huston
Musica: Alex North
MOBY DICK (1956)
MOBY DICK, LA BALENA BIANCA
Regia: John Huston
Musica: Philip Stainton
THE MOLLY MAGUIRES (1970)
I COSPIRATORI
Regia: Martin Ritt
Musica: Henry Mancini
MONDO CANE (1962)
Regia: Gualtiero Jacopetti
Musica: Riz Ortolani / Nino Oliviero
MONTY PYTHON'S THE MEANING OF LIFE (1983)
MONTY PYTHON - IL SENSO DELLA VITA
Regia: Terry Jones
Musica: Eric Idle, Terry Jones, Michael Palin, John Cleese, Graham Chapman etc.
MURDER, INC. (1960)
SINDACATO ASSASSINI
Regia: Stuart Rosenberg
Musica: Frank De Vol