CINEMA
---
ECCE BOMBO (1978)
Regia: Nanni Moretti
Musica: Franco Piersanti
E LA NAVE VA (1983)
Regia: Federico Fellini
Musica: Gianfranco Plenizio
ELMER GANTRY (1960)
IL FIGLIO DI GIUDA
Regia: Richard Brooks
Musica: André Previn
EMPEROR OF THE NORTH (1973)
L'IMPERATORE DEL NORD
Regia: Robert Aldrich
Musica: Frank DeVol
ESCAPE FROM ALCATRAZ (1979)
FUGA DA ALCATRAZ
Regia: Don Siegel
Musica: Jerry Fielding
ESCAPE FROM NEW YORK (1981)
1997: FUGA DA NEW YORK
Regia: John Carpenter
Musica: John Carpenter
FAHRENHEIT 451 (1966)
Regia: François Truffaut
Musica: Bernard Herrmann
THE FALCON AND THE SNOWMAN (1985)
IL GIOCO DEL FALCO
Regia: John Schlesinger
Musica: Pat Metheny / David Bowie / Lyle Mays
THE FAMILY WAY (1967)
QUESTO NOSTRO DIFFICILE AMORE
Regia: Roy Boulting
Musica: Paul McCartney
FANTASTIC VOYAGE (1966)
VIAGGIO ALLUCINANTE
Regia: Richard Fleischer
Musica: Leonard Rosenman
FAR FROM THE MADDING CROWD (1967)
VIA DALLA PAZZA FOLLA
Regia: John Schlesinger
Musica: Richard Rodney Bennett
FATA MORGANA (1971)
Regia: Werner Herzog
Musica: Georg Friedrich Händel / Wolfgang Amadeus Mozart / Leonard Cohen / Blind Faith
FEDORA (1978)
Regia: Billy Wilder
Musica: Miklos Rozsa
FIRE IN THE SKY (1993)
BAGLIORI NEL BUIO
Regia: Robert Lieberman
Musica: Mark Isham
---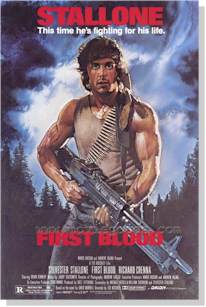 FIRST BLOOD (1982)
RAMBO
Regia: Ted Kotcheff
Musica: Jerry Goldsmith
L'ennesimo abbaglio della Sinistra che, ancora una volta, non ci capì un beneamato nulla. Il film di Ted Kotcheff era apertamente schierato dalla parte dei reduci del Vietnam - indigenti prima e disadattati poi - anziché dei mandanti di quella guerra. Dunque, nessuna deriva reazionaria: piuttosto, un'esile premessa "sociale" per un brillante ibrido fra dramma bellico e "action movie" ad alto tasso di testosterone. Embè? Mica è proibito. Oppure in ossequio al "politically correct" dobbiamo avallare qualsiasi fregnaccia della critica? In ogni caso, lungi dall'essere un capolavoro della storia del cinema, First Blood (Rambo) è sorretto da una bella sceneggiatura (tratta dal romanzo omonimo di David Morrell) e si avvale della superba caratterizzazione di Brian Dennehy nei panni dello sceriffo testardo che cerca di tutelare l'ordine in città ma concorre, suo malgrado, a scatenare il casino infernale di cui è capace il "green beret" Sylvester Stallone. Memorabile l'entrata in scena del Colonnello Trautman (Richard Crenna doppiato da Pino Locchi): "Non è stato Dio a fare Rambo, l'ho fatto io". [P.S. - Quanto sopra vale solo per il primo episodio della serie.] - B.A.
---
FITZCARRALDO (1981)
Regia: Werner Herzog
Musica: Popol Vuh
FLAME (1975)
Regia: Richard Loncraine
Musica: Slade (Noddy Holder / Jim Lea)
THE FLY (1986)
LA MOSCA
Regia: David Cronenberg
Musica: Howard Shore
FM (1978)
Regia: John A. Alonzo
Musica: Steely Dan etc.
FOOTLOOSE (1984)
Regia: Herbert Ross
Musica: Kenny Loggins, Deniece Williams, Dean Pitchford etc.
FORBIDDEN PLANET (1956)
IL PIANETA PROIBITO
Regia: Fred McLeod Wilcox
Musica: Louis Barron / Bebe Barron
FREAKS (1932)
Regia: Tod Browning
Musica: Unknown
THE FRENCH CONNECTION (1971)
IL BRACCIO VIOLENTO DELLA LEGGE
Regia: William Friedkin
Musica: Don Ellis
FRENZY (1972)
Regia: Alfred Hitchcock
Musica: Ron Goodwin
FROM DUSK TILL DAWN (1995)
DAL TRAMONTO ALL'ALBA
Regia: Robert Rodriguez
Musica: Graeme Revell
FROM HERE TO ETERNITY (1953)
DA QUI ALL'ETERNITÀ
Regia: Fred Zinnemann
Musica: George Duning
THE GETAWAY (1972)
GETAWAY!
Regia: Sam Peckinpah
Musica: Quincy Jones
GET ON THE BUS (1997)
BUS (IN VIAGGIO)
Regia: Spike Lee
Musica: Terence Blanchard / Aaron Neville etc.
IL GIORNO DELLA CIVETTA (1968)
THE DAY OF THE OWL
Regia: Damiano Damiani
Musica: Giovanni Fusco
GIÙ LA TESTA (1971)
Regia: Sergio Leone
Musica: Ennio Morricone
THE GODFATHER (1972)
IL PADRINO
Regia: Francis Ford Coppola
Musica: Nino Rota
THE GODFATHER - Part II (1974)
IL PADRINO - Parte II
Regia: Francis Ford Coppola
Musica: Nino Rota
THE GRADUATE (1967)
IL LAUREATO
Regia: Mike Nichols
Musica: Simon & Garfunkel / Dave Grusin
GUYS AND DOLLS (1955)
BULLI E PUPE
Regia: Joseph L. Mankiewicz
Musica: Frank Loesser, Jo Swerling, Abe Burrows