FOLK
---
DAVID ACKLES - AMERICAN GOTHIC (1972)
DAVID ACKLES - FIVE & DIME (1973)
AFFINITY - AFFINITY (1970)
ALBION COUNTRY BAND - BATTLE OF THE FIELD (1973/1976)
ALBION DANCE BAND - THE PROSPECT BEFORE US (1977)
ALBION BAND - RISE UP LIKE THE SUN (1978)
ALBION DANCE BAND - SHUFFLE OFF! (1983)
AMAZING BLONDEL - ENGLAND (1972)
STEPHEN AMBROSE - GYPSY MOTH (1972)
ERIC ANDERSEN - ERIC ANDERSEN (1969)
ERIC ANDERSEN - BLUE RIVER (1971)
ERIC ANDERSEN - BE TRUE TO YOU (1975)
ALISTAIR ANDERSON - CORBY CRAG (1978)
IAN A. ANDERSON - BOOK OF CHANGES (1970)
IAN A. ANDERSON - ROYAL YORK CRESCENT (1970)
IAN A. ANDERSON - A VULTURE IS NOT A BIRD YOU CAN TRUST (1971)
IAN A. ANDERSON - SINGER SLEEPS ON AS BLAZE RAGES (1972)
MILLER ANDERSON - BRIGHT CITY (1971)
HARVEY ANDREWS - FRIENDS OF MINE (1973)
FRANKIE ARMSTRONG - LOVELY ON THE WATER (1972)
FRANKIE ARMSTRONG - ... OUT OF LOVE, HOPE AND SUFFERING (1974)
---
STEVE ASHLEY - STROLL ON (REVISITED) (1974)

[…] it's up there with Liege & Lief, the first Steeleye Span album
and Christy Moore's Prosperous […] - Colin Harper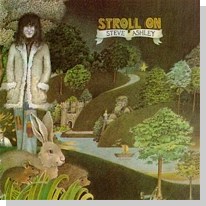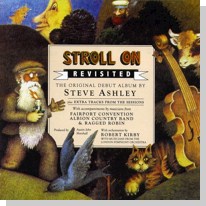 Francamente ci sfugge il motivo per cui sulle riviste più avvertite, e persino nel bel volume monografico di Antonio Vivaldi (Folk Inglese e Musica Celtica), il nome di Steve Ashley risulti pressoché assente. Eppure, non sembri un'imprudenza, il suo esordio è uno dei capolavori del folk-rock britannico e un album stupendo in assoluto. Con la batteria testicolata di Dave Mattacks, i sobri arrangiamenti di Robert Kirby e la massiccia presenza di noti specialisti del giro (Dave Pegg, Ashley Hutchings, Danny Thompson, Simon Nicol, Jerry Donahue etc.), il cantautore poteva contare su un solido supporto strumentale. Fire And Wine apre il disco con un epico inno all'inverno e ai suoi riti: l'introduzione "a cappella" e la possente andatura ritmica evocano i Fairport Convention di Liege & Lief e i Jethro Tull di Songs From The Wood. Voto: "10". La personalità di Ashley, nobile mancino che suona una chitarra "normale" imbracciandola al contrario, affiora con nettezza tanto sulle tenere ballate acustiche (Finite Time; Springsong; The Spirit Of Christmas; Candlemas Carol; Love In A Funny Way; Follow On) quanto sulle incisive melodie autografe (Silly Summer Games; Monkey Puzzle Tree; Old Rock 'n' Roll), incorniciando in un vivido affresco musicale lo scorrere delle stagioni. [P.S. - Nel 1999 la Market Square ha pubblicato una lussuosa edizione CD, intitolandola Stroll On - Revisited.] - B.A.
---
STEVE ASHLEY - SPEEDY RETURN (1975)
GARY & VERA ASPEY - FROM THE NORTH (1975)
GARY & VERA ASPEY - A TASTE OF HOTPOT (LIVE) (1976)
GARY & VERA ASPEY - SEEING DOUBLE (1979)
VERA ASPEY - THE BLACKBIRD (1977)
ROY BAILEY - ROY BAILEY (1971)
ROY BAILEY - NEW BELL WAKE (1976)
ROY BAILEY - HARD TIMES (1982)
ROY BAILEY - LEAVES FROM A TREE (1988)
ROY BAILEY / LEON ROSSELSON - LOVE LONELINESS LAUNDRY (1977)
ROY BAILEY / LEON ROSSELSON - IF I KNEW WHO THE ENEMY WAS ... (1979)
ALAN BELL - THE MINSTREL (1978)
BLACKTHORN - BLACKTHORN (1977)
BOYS OF THE LOUGH - BOYS OF THE LOUGH (1972)
BOYS OF THE LOUGH - SECOND ALBUM (1973)
BOYS OF THE LOUGH - LOCHABER NO MORE (1976)
BOYS OF THE LOUGH - THE PIPER'S BROKEN FINGER (1976)
BOYS OF THE LOUGH - FAREWELL AND REMEMBER ME (1987)
---
PAUL BRADY / ANDY IRVINE - ANDY IRVINE / PAUL BRADY (1976)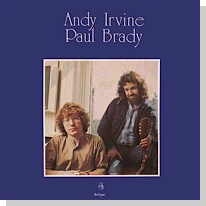 Irlanda. Musica. Due uomini buoni. Qualcosa ci dice che il male può essere sconfitto. Appena sciolti i Planxty, Andy e Paul restano insieme per incidere un indiscusso capolavoro del catalogo folk. Gli arrangiamenti brillano grazie alla duttile chitarra di Brady e ai plettri assortiti di Irvine. Noto soprattutto come strumentista - impeccabili i suoi interventi con mandolino e ghironda - Andy eccelle anche al microfono, con un'ugola antica e solenne che caratterizza diverse pagine dell'album: la ballata ippica di Plains Of Kildare, la fiaba scozzese di Bonny Woodhall e le romantiche meditazioni di Autumn Gold e Streets Of Derry. Paul esibisce l'approccio del cantautore, personalizzando con una voce stridula ma espressiva le odi pacifiste Arthur McBride e Mary And The Soldier e la serenata ulsterite Lough Erne Shore. Preziose le rifiniture degli ospiti Donal Lunny (bouzouki, bodhrán) e Kevin Burke (violino), soprattutto sulle gighe eseguite in trio (The Blarney Pilgrim; The Little Stack Of Wheat) e quartetto (Fred Finn's Reel / Sailing Into Walpole's Marsh). Fuori piove e fa freddo, ma per scaldarsi bastano un plaid, una birra e l'impianto stereo acceso. - B.A.
---
PAUL BRADY - WELCOME HERE KIND STRANGER (1978)
ANNE BRIGGS - THE HAZARDS OF LOVE (1964)
ANNE BRIGGS - ANNE BRIGGS (1971)
ANNE BRIGGS - THE TIME HAS COME (1971)
THOMAS F. BROWNE - WEDNESDAY'S CHILD (1971)
DAVE BURLAND - A DALESMAN'S LITANY (1971)
DAVE BURLAND - DAVE BURLAND (1972)
DAVE BURLAND - SONGS & BUTTERED HAYCOCKS (1975)
DAVE BURLAND - YOU CAN'T FOOL THE FAT MAN (1979)
DAVE BURLAND - HIS MASTER'S CHOICE / THE SONGS OF RICHARD THOMPSON (1996)
CANZONIERE DEL LAZIO - QUANDO NASCESTI TUNE (1973)
CANZONIERE DEL LAZIO - LASSA STÀ LA ME CREATURA (1974)
CANZONIERE DEL LAZIO - SPIRITO BONO (1976)
CANZONIERE DEL LAZIO - MIRADAS (1977)
CANZONIERE DEL LAZIO - MORRA (1978)
TONY CAPSTICK with HEDGEHOG PIE - HIS ROUND (1971)
MARTIN CARTHY / DAVE SWARBRICK - PRINCE HEATHEN (1969)
MARTIN CARTHY - SHEARWATER (1972)
MARTIN CARTHY - SWEET WIVELSFIELD (1974)
MARTIN CARTHY - CROWN OF HORN (1976)
MARTIN CARTHY - BECAUSE IT'S THERE (1979)
MICHAEL CHAPMAN - RAINMAKER (1969)
MICHAEL CHAPMAN - FULLY QUALIFIED SURVIVOR (1970)
BRUCE COCKBURN - HIGH WINDS WHITE SKY (1971)
BRUCE COCKBURN - NIGHT VISION (1973)
BRUCE COCKBURN - SALT, SUN AND TIME (1974)
BRUCE COCKBURN - JOY WILL FIND A WAY (1975)
---
BRUCE COCKBURN - IN THE FALLING DARK (1976)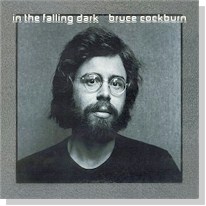 Primo capitolo di un trittico straordinario, In The Falling Dark (al pari di Further Adventures Of e Dancing In The Dragon's Jaws) è un album ideale per accostarsi all'universo espressivo di Bruce Cockburn. Carattere inquieto e riflessivo insieme, esponente di una stirpe di cantautori cresciuti sulla strada, abili con la chitarra e ostili ai compromessi (Gordon Lightfoot, Shawn Phillips, Roy Harper, Nic Jones, Bert Jansch, Nick Drake), dal 1970 Cockburn incide dischi sobri, coerenti, ispirati, firmando musiche evocative e parole intrise di una spiritualità sincera e mai invadente. L'agile 6 corde acustica del canadese - una delizia per i cultori dello strumento - fa da perno ad arrangiamenti austeri, sospesi tra folk e jazz, integrati dal sostegno ritmico di Michel Donato (contrabbasso) e Bob Di Salle (batteria). Le canzoni toccano con eguale sensibilità i temi più diversi: politica (Gavin's Woodpile), trascendenza (I'm Gonna Fly Someday), natura (Little Seahorse), viaggi (Vagabondage). In apertura, la splendida Lord Of The Starfields leva un solenne inno all'Onnipotente, immaginato come essere senza nome e senza volto, che tutto osserva, tutto governa e tutto pervade: raro esempio di slancio religioso autentico, lontano anni luce dalla falsa devozione dei fanatici di ogni tipo. Il lento, affannoso incedere di In The Falling Dark ci sprofonda nelle tenebre attraverso immagini cupe e angoscianti, mentre Bruce scandisce il tempo sincopando gli accordi. La sua perizia tecnica è in bella evidenza nel melodico arpeggio di Water Into Wine, eseguito in solitudine. Intensa 'road song' da ascoltare in auto, Silver Wheels rincorre il nevrotico flicorno di Fred Stone lungo un deprimente susseguirsi di paesaggi industriali e suburbani. Eccellenti le ristampe CD della True North. Viva il Canada. - B.A.
---
BRUCE COCKBURN - CIRCLES IN THE STREAM (1977)
BRUCE COCKBURN - FURTHER ADVENTURES OF (1978)
BRUCE COCKBURN - DANCING IN THE DRAGON'S JAWS (1979)
BRUCE COCKBURN - HUMANS (1980)
BRUCE COCKBURN - STEALING FIRE (1984)
JUDY COLLINS - FIFTH ALBUM (1965)
JUDY COLLINS - IN MY LIFE (1966)
JUDY COLLINS - WILDFLOWERS (1967)
JUDY COLLINS - WHO KNOWS WHERE THE TIME GOES (1968)
JUDY COLLINS - WHALES & NIGHTINGALES (1970)
JUDY COLLINS - JUDITH (1975)
JUDY COLLINS - BREAD & ROSES (1976)
JUDY COLLINS - HARD TIMES FOR LOVERS (1979)
SONNY CONDELL - CAMOUFLAGE (1977)
DANDO SHAFT - AN EVENING WITH ... (1970)
DANDO SHAFT - DANDO SHAFT (1971)
DANDO SHAFT - KINGDOM (1977)
ALUN DAVIES - DAYDO (1972)
DE DANANN - SELECTED JIGS, REELS & SONGS (1975)
DE DANANN - DE DANANN (1976)
SANDY DENNY / STRAWBS - ALL OUR OWN WORK (1968)
---
SANDY DENNY - THE NORTH STAR GRASSMAN AND THE RAVENS (1971)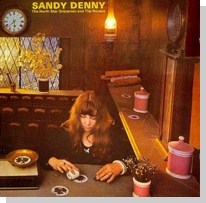 Dopo l'esaltante avventura coi Fairport Convention (What We Did On Our Holidays; Unhalfbricking; Liege & Lief) e l'intensa fiammata dei Fotheringay (Fotheringay), era inevitabile che un'interprete e autrice di questo calibro spiccasse il volo in solitudine. L'esordio di Sandy Denny a proprio nome vanta la presenza di alcuni prestigiosi ex-compagni: in particolare, Richard Thompson e Jerry Donahue alle chitarre e Gerry Conway alla batteria sono i pilastri di un autentico super-gruppo. Con l'unica eccezione della cover di Bob Dylan (Down In The Flood), le canzoni sono avvolte in una bruma autunnale tipicamente inglese, la stessa che ispirerà Steve Ashley per il capolavoro Stroll On. Ad arrangiamenti sobri, ma non spogli, fa da contrappunto il fraseggio di Thompson, sempre fine e personale. Sgravate da soverchie zavorre stilistiche, le melodie e la voce della musa folk possono così librarsi su uno spleen variabile per natura e densità: atmosferico (Late November; Wretched Wilbur), sentimentale (Next Time Around; Crazy Lady Blues), narrativo (John The Gun; The Sea Captain; The Optimist), immaginario (The North Star Grassman And The Ravens). Il titolo originale dell'album avrebbe dovuto essere Slapstick Tragedies. La stessa Sandy ammise: «I rather like that title because it's a compromise: instead of slapstick comedies, I thought of tragedies because I'm no comedian in my music. Most of my songs seem pretty traumatic, pretty serious. I can't sing happy songs.». Impeccabile la ristampa CD della Island. - B.A.
---
SANDY DENNY - SANDY (1972)
NIGEL DENVER - REBELLION! (1967)
---
NICK DRAKE - FIVE LEAVES LEFT (1969)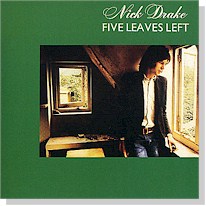 Ormai recluso nella casa dei genitori a Tanworth-in-Arden, Nick Drake morì per un'overdose di Tryptizol. Una tragedia. Eppure, andandosene prematuramente a soli 26 anni (19 Giugno 1948 / 25 Novembre 1974), egli ci consegnò un inestimabile testamento artistico. Ancora oggi, quando lo stereo diffonde le note di Five Leaves Left, l'ascoltatore si ritrova immerso in una dimensione emotiva autentica e non ancora vilipesa dalla "realtà" posticcia della TV. Scoperto nel 1968 da Ashley Hutchings (Fairport Convention, Steeleye Span), Drake gravitava attorno al circuito folk inglese, pur non essendone stilisticamente debitore. La chitarra acustica sempre in primo piano rivela una prassi comune in quell'ambiente, ma le melodie evocative, i testi onirici e una voce quasi ultraterrena collocano Nick al di là dei generi. Il produttore Joe Boyd ridusse al minimo la propria influenza, applicando alle canzoni una sobria rifinitura strumentale: il solido contrabbasso di Danny Thompson, la raffinata Les Paul di Richard Thompson e i morbidi archi arrangiati da Robert Kirby esaltano lo spessore espressivo dell'album, senza violarne l'intrinseca eleganza formale. Dall'altra parte dell'Atlantico, Arif Mardin stava adottando un criterio analogo per l'esordio discografico di John Prine (John Prine). Time Has Told Me e Saturday Sun sono il prologo e l'epilogo di un turbamento interiore privo di spiragli verso il mondo esterno. Nelle cangianti atmosfere di Way To Blue, Fruit Tree e The Thoughts Of Mary Jane, il proverbiale pessimismo di Drake si alterna al fugace sorriso di una fanciulla misteriosa. L'arpeggio del cantautore e le congas di Rocki Dzidzornu creano il clima ipnotico di Three Hours e 'Cello Song. La fosca inquietudine (… oh, how they come and go …), le immagini impenetrabili e le armonie sinistre di River Man rivivranno nelle improvvisazioni di Brad Mehldau (Songs - The Art Of The Trio Volume Three), che interpreterà anche lo splendido tema di Day Is Done nell'omonimo CD (Day Is Done). Emblematica la foto sul retro della copertina, con la placida posa di Nick contrapposta alla frenetica andatura del passante (riapparirà spesso su edizioni e antologie varie). - B.A.
---
NICK DRAKE - BRYTER LAYTER (1970)
BARRY DRANSFIELD - BARRY DRANSFIELD (1972)
BARRY DRANSFIELD - BOWIN' AND SCRAPIN' (1984)
ROBIN & BARRY DRANSFIELD - THE ROUT OUT OF THE BLUES (1970)
ROBIN & BARRY DRANSFIELD - POPULAR TO CONTRARY BELIEF (1977)
DRUIDS - BURNT OFFERING (1970)
DRUIDS - PASTIME WITH GOOD COMPANY (1972)
JAN DUINDAM - THOUGHTS (1978)
DAVE ELLIS - ALBUM (1973)
DEREK & DOROTHY ELLIOTT - DEREK & DOROTHY ELLIOTT (1972)